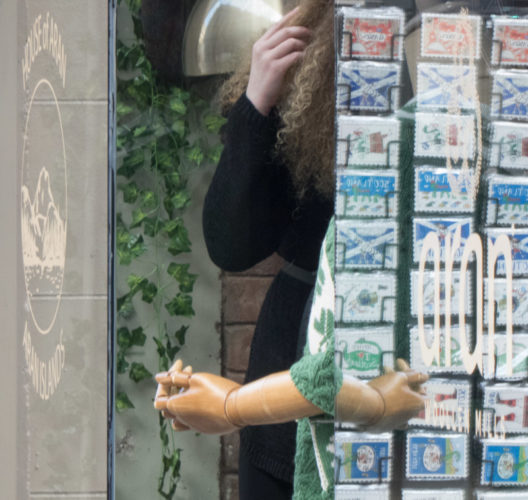 It was a lovely day today. Just like summer … in October!
I kid you not, blue sky wall to wall with just a few white clouds to disturb the monotony of all that blue. Even better, it was warm. Didn't do much in the morning, just tackled my daily sudoku. Drove in to Glasgow and marvelled at the beautiful day after all the torrential rain we've had. Walked down to Blackfriars and struggled a bit with the Timesteps in Jive class. Next we got some pointers for the waltz and were actually Best In Class at Quickstep. Maybe that would be better phrased as Best of the Rest, because the Rest were struggling. Coffee afterwards to recap on our successes and work still in progress. PoD was shot in Queen Street. Just the hand of a mannikin reflected in a shop window.
Driving home the temperature reached 22ºc and I knew Scamp was champing at the bit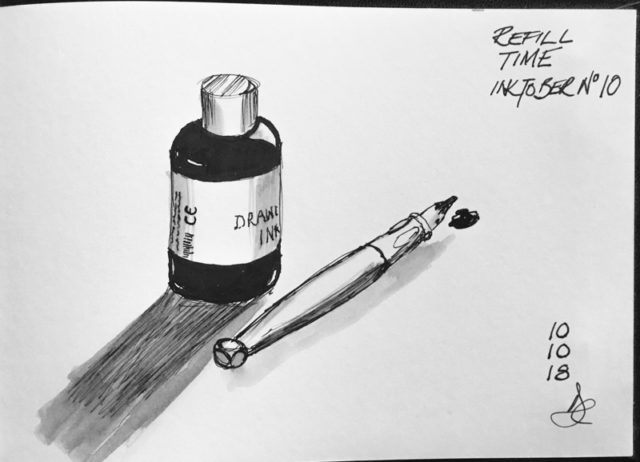 to give the front grass its last cut before winter sets in. She got it done. I got my sudoku solved. I also got today's sketch done. Just my wee Lamy pen getting it's ink refill. I'd actually intended going for a run on the bike, but better to get the essential things done first, then the things that aren't quite so important.
Drove to Salsa and re-learned Bueno with the level 4(?) class. George Brown made an appearance. As usual he tried to wind me up asking about my painting, but it's easy to misdirect him. Anyway, it's not me he's interested in! Spoke to a couple of people I hadn't seen in ages. That's what's good about the AdS classes, people leave and then return a few years later with stories to tell.
Reset all my passwords for mail from dhcampbell, just in case.
Tomorrow I may take the bus in to Glasgow just for a walk in the rain. This hot weather can be very boring!