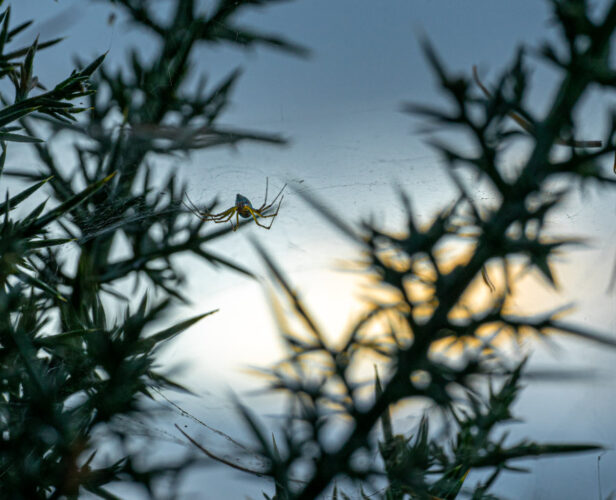 But first the doc's.
Drove Scamp to her appointment with the doc. The doc shook her hand, gave her a prescription for some pills and said she hoped Scamp would feel better. It was a blustery day with occasional rain showers that came thumping down, seemingly from nowhere. We drove to the chemist which is conveniently next to Tesco and while she was in the chemist, I went to get some messages then we drove home and it was just after 10am! Unluckily for Scamp she had just missed the Parcelforce man who was supposed to be delivering a parcel today. Now she'll have to wait until tomorrow.
We had a late breakfast and I messed about with the computer for a while, bought The Hidden Palace by Helene Wecker. Yes, Hazy, you talked me into it and I needed something well written after having ploughed through the latest John Connolly. I used to like his stories, but too much padding, too much history and too little story in this one. After that we watched yesterday's F1 GP from Austin. Quite and exciting race for once with lots of action and a good finish.
After lunch it was a case of pack up your dance shoes and drive to another tea dance. This one was in Falkirk, in Central Region, hence the cryptic title to this blog. We'd been to a tea dance in Falkirk before the first lockdown, but only one, then everything shut down. That one had been in the Council Offices, but today's was in a church hall in the centre of Falkirk. Lovely looking church with a reasonably sized hall but the bonus was the live music. A bloke playing an organ, not a keyboard, but an organ with foot pedals and stuff. Apparently he's an opera singer, but makes a bob or two running tea dances in local churches. He was good, but hadn't quite got the mark of the clientele. Twice he tried to get people up to dance Scottish country dance tunes. Once couple got up for the first one, but nobody did for the second! Just a bit embarrassing. We did all the dances that I was sure I knew and one or two that I was a bit rust on. Big bonus of this tea dance was that they actually had tea. Gorbals didn't and that was a black mark against them. Extra big bonus, they had Tunnocks Caramel Wafers and also Snowballs. Scamp was peeved that she didn't get a snowball. The company was a lot less friendly than other places we've been too. Insular or maybe inbred, difficult to tell, but none of the dancers spoke to us. Black mark against them, then.
We had got soaked walking from the carpark to the church, but when we came out the sun was shining. Not so shiny was Falkirk Main Street. If this had been America, there would have been tumbleweed rolling down the streets. Shop after shop was closed and boarded up. These days you only need one or two big shops to close and you've started on the slippery slope. It was really depressing. There were a lot of smaller shops on some of the streets off the main street, but some of them were almost certainly on a short let. The only shop that was busy was the big party shop. People were queueing all the way down its frontage, almost all with children in tow, desperate to get their Halloween costumes. We drove home and agreed that we'd go back to the next tea dance in the church, all being well.
Back home there was just enough light to allow a safari to St Mo's. I got today's PoD of a spider there. I think that was the last of the light just disappearing.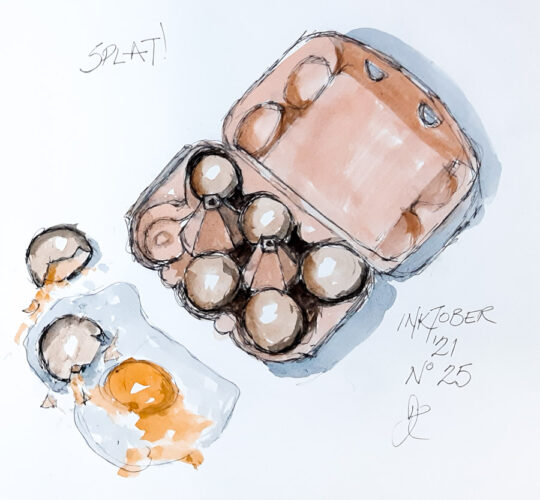 Dinner was Saturday's soup with croutons and a pizza to follow. Today's prompt was 'Splat'. My sketch of a splatted egg got Scamp's approval with a couple of suggestions that I agree with, but by then it was too late to change things. The sketch this time is drawn on an A2 sheet of cartridge paper. A bit bigger than my usual A5! No eggs were harmed in making this sketch, only virtual ones!
Tomorrow Scamp is booked with the Witches for lunch. I have a few jobs to do in the house and also a prospective drive into the country if weather permits.