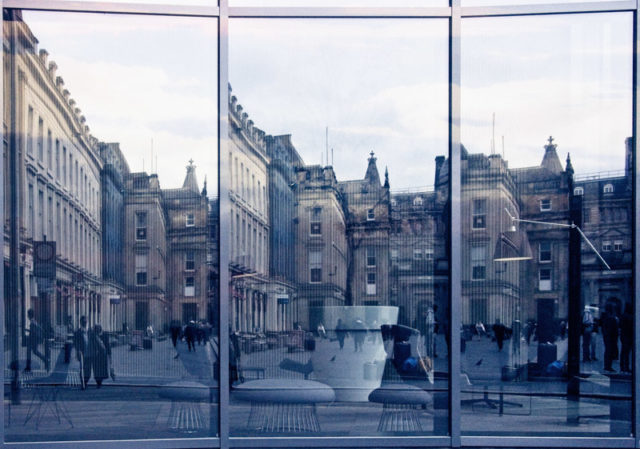 Dancing just once, but we covered a whole lot of stuff. Jive, Waltz, Quickstep and Cha-Cha. All within an hour!
Lazy start to the day trying to get into a new book after the superb Natural Causes. The life story of a forensic pathologist. Utterly fascinating. The new book is a novel and it's hard to change from a non-fiction book to a fiction book, at least it is for me.
Drove in to Glasgow and watched the speed of the advanced Jive class and wished we could be so slick. I think I've grown to like jive because of the music. Like Salsa music, jive is generally happy, lively music. Waltz is slow and steady. Quickstep is faster and quite bouncy, but Jive really has you tapping your feet, much like salsa. Our jive was a bit rough round the edges, but we were keeping our heads above water, so to speak. We may not have been as sharp as the advanced class, but we were keeping in time to the music most of the time and although we forgot a few moves, we were doing quite well. Even the Timestep was reasonably good. Michael took us on to the next step called the Kicksies. I video'd it and I'm glad I did. We've just watched it tonight and broken it down into manageable pieces and we've got a fair idea how it fits together and how it fits into our routine.
Waltz was a disaster. I just couldn't put a foot right and for once, neither could Scamp. I think my head was still full of jive. I have to take my Jive head off and replace it with my Waltz head, just like Wurzel Gummidge before I can attempt the Waltz. Then I have to do the same with the Quickstep which was heading to be a disaster too until Michael made two changes to our Running Step. Hands high and Head high. What a difference those two simple things made. I know, all the foregoing is more like Technospeak than anything. I suppose it is just Dance Technospeak. Anyway, we walked out into the cold of Bell Street feeling much better about ourselves.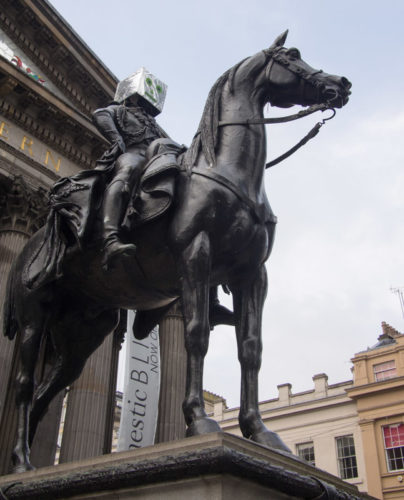 Quick coffee and then home. Grabbed a few shots of the Duke of Wellington with his robot head on and the makings of today's PoD which is reflections in 110 Queen Street. The glass office building.
Back home and while I was post-processing the PoD, we got a text from Irene to say that Jamie G would not be taking the intermediate class tonight, Shannon would. That made life a lot easier. We were staying in tonight. I don't need to be 'taught' for an hour how to hold my hands in the air and shout "Oo La La". I find little use for that phrase in my normal, or dancing life. Sent Dougie a quick warning message on FB, because he is also a fully paid up member of the "Not Shannon" club. To get our dancing fix tonight, we practised a few Kicksies. If we do that for a few days it will Fixie the Kicksie in my head.
Tomorrow I'm hoping to get my wedding ring back. Also need to do some shopping and prep for dinner on Friday.