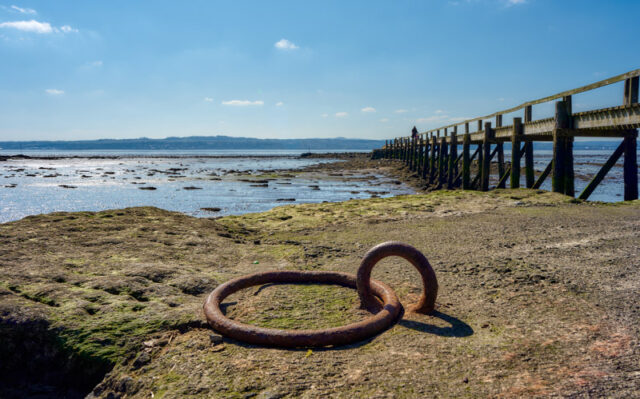 My choice today, so blame me, Hazy!
Today we drove to Culross. Yesterday we were warned by JIC not to waste our freedom on Helensburgh. Today Hazy would say we wasted our second day on Culross.
We got parked right away. As one person was driving out we drove in. One out, one in. It's quite a small car park and we did have an option of another one if the main car park was full. Later in the day we found yet another parking place that we'd not noticed before. Culross is a curious place indeed. Three fairly large car parks for such a small town.
Recently I've been describing, partly as an aide memoire for me which routes we've taken on our walks. Today, using the theory that one picture is worth a thousand words, I'll provide you with a map.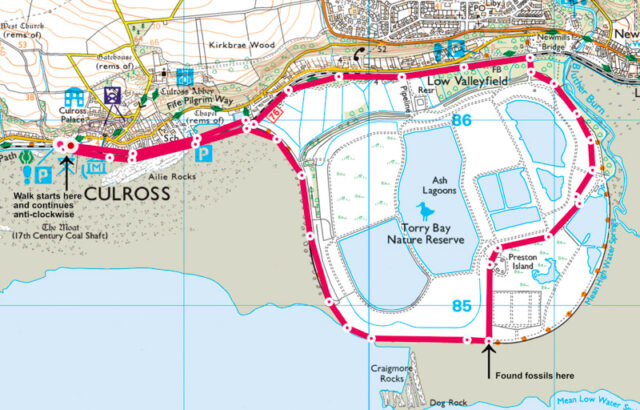 We started off at the car park. Almost immediately, I got PoD which is a view of the 'new' pier with the precarious looking wooden walkway out to it. Then we walked on a narrow path between the, now defunct railway and the sea wall as far as the start of the reclaimed area that now landlocks Preston Island. We continued our walk beside the sea on our right and the lagoons protected by a chain link fence on the left, listening to larks ascending. It's only in quiet undisturbed places like Preston Island that you hear skylarks now. They used to be everywhere, now they are getting very rare. We sat on some rocks and after I'd photographed what I think are fossils on the boulders that form the breakwater, we decided we'd turn our walk into a circular tour of the once island. Walked round the closed off area reclaimed by dumping ash from the now almost completely demolished Longannet power station. It was a coal fired power station and there must have been thousands of tons of ash dumped on this land to reclaim it from the salt water of the estuary. It wasn't the prettiest walk, but the sun was shining and we weren't climbing any great hills today, so we were just enjoying life.
Walking through an avenue of trees on the north side of the reclaimed land I took a photo of a couple cycling along in front of us (it's on Flickr) and realised that almost all the cyclists I'd seen today were about our age and almost every one of them was seated on an electric bike. Scamp say's it's just the fashion, but maybe it's going to be the way forward. I'm not sure it's the right way. I think folk see electric power becoming popular as a 'green' alternative to petrol in cars and assume it's the same for bikes. Surely the 'greenest' form of travel is by human power. After all, it keeps you fit. There are no batteries to charge or to replace and it's cheaper. That said, I'd like to try an electric bike some time!
We came back almost the same way as we went out, except we were on the other side of the railway line. Loads of people and their dogs walking along the path. Everyone rejoicing in their new found freedom. I often think I've lost something, a pen, a brush, something I'd hate to lose, only to find it later. The joy it brings to find you've not lost something you thought was gone for ever is a great feeling. I believe it's the same with our freedom being returned after we thought we'd lost it for good.
Tomorrow we may drive to Glasgow Green for a walk, if the weather holds out.