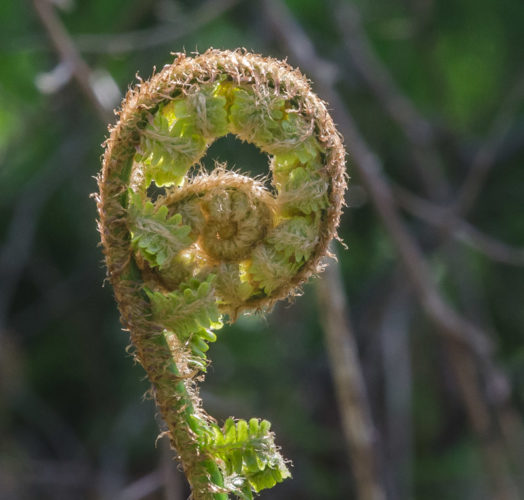 I thought yesterday would be the end of the good weather, but I was wrong. Thankfully.
This morning was all about tidying up the loose ends of the blog and Flickr. After that was finished, it was almost time for Gems, so I made my lunch and made myself scarce. It was a beautiful warm spring day and it seemed a shame not to take advantage of it.
I drove down to Auchinstarry and walked along the railway, then across the plantation. From there I walked back along the canal. I got some photos along the canal, but the PoD was one of the first I'd taken along the side of the railway walk. I hadn't realised that the name for the unfurling fern stems was a 'Crozier', presumably that's where the bishop's crook got its name, or maybe it was the other way round. Who knows.
Came home via Lidl to get some stuff for dinner. We could have had our normal Monday Pasta, but I thought a salad would be better and got some crayfish tails and an avocado which would work well with tomatoes, beetroot and mixed leaves as a salad dinner. If we were hungry after salsa, we could always have the pasta then.
Salsa on a Monday is becoming boring for me. I quite enjoy the first advanced class, but it seems like Jamie thinks he needs to have at least two new moves every week and some of them, in fact, most of them are over-complicated and difficult to dance socially. Maybe it's just me, or maybe we need a break from salsa for a while. I know that I'll be missing from the Wednesday class for a while because I'm intending joining a portraiture art class this week, so that may create a natural break. However, tonight the moves were more interesting and not as complicated as some he's been teaching.
I'd bought a couple of bottles of beer at Lidl and had the forethought to put one of them in the fridge before we went out. Two glasses of shandy went down a treat when we got home.
Tomorrow looks a bit less sunny and warm, but I'm sure it won't be a great hinderance. I'm sure we'll find something to do.