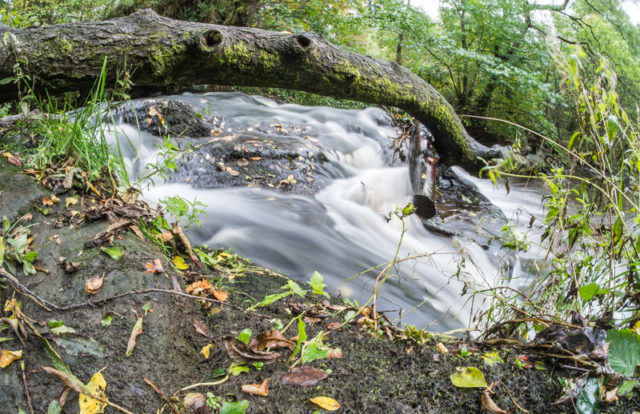 A dull day, but I got a painting finished, a PoD and I made the dinner, so not that dull.
I started the painting in the morning while Scamp was out in a raiding party to Tesco. She went to the town centre store as she'd already bought Craigmarloch Tesco on Sunday. The painting was based on a photo from Flickr. Since it was a dull day and there was the likelihood of rain, I thought it would be best to work from a photo rather than from life. It took just over half an hour, including some tweaking of textures and adding an ink outline. Not bad I thought.
After lunch I toyed with the idea of going out to get some photos, but by the time I'd decided to go, it was raining. Not that it made much difference to me. I needed a PoD and that PoD was out there, in the rain. That's the whole point of doing a PoD. It forces me to get off my backside and go out and grab a piece of the day, process it and post it. You take what the day gives you and you work with it. Yesterday it was all about the big picture, grand views. Today it would be about rain.
Drove down to the Cumbersheugh railway station and parked there. Then walked across the road and down through the trees to walk along the Luggie. It's called the Luggie Water, but it's really just a burn, a stream to English readers. It was flowing a bit higher than normal today and that's what gave me the idea of a slow shutter speed shot of the wee waterfall. Out of six shots I took, only one didn't have a hand, a foot or a bit of the gorilla pod in the frame. Honestly, these ultra wide lenses should come with a warning to check the viewfinder closely before you press the shutter button.
The final shot was what you see above and apart from a bit of cropping, was as it came out of the camera. It's not often that happens, but this one did.
Dinner was Prawn and Courgette Spaghetti and was a bit of an experiment. Like most experiments, at least like most of my culinary experiments, it will need a bit of tweaking before I try it again. The lime dressing was too strong, the prawns were overdone but the courgette spaghetti was interesting enough to make again.
So a dull day weatherise. Drizzly rain for the most part, but an interesting day too. Got stuff done, that always helps. Tomorrow it's dancin'!