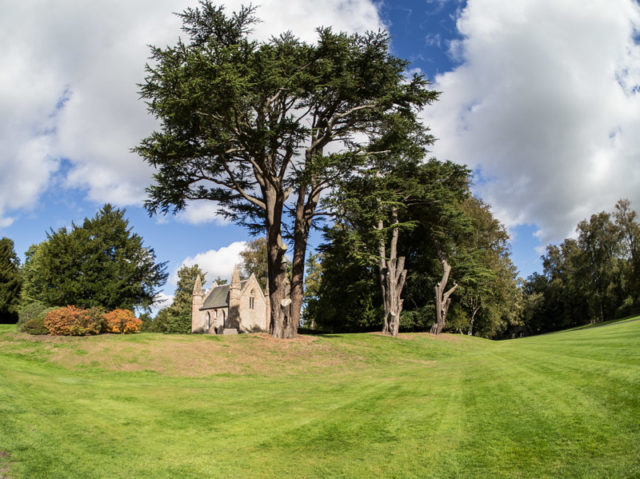 Went to Scone, but didn't get one!
We'd been saying for ages that we should go to Scone Palace. Scamp had an Itison voucher which was valid until October and as time was marching on and it was a beautiful morning, we decided that today was the day.
Drove up there with the satnav taking us a circuitous route around the motorway system on the outskirts of Perth but it was down to Scamp in Genghis Pathfinder mode to spot the turnoff for the Palace. Parked up, got our tickets and went looking for the entrance. At first we thought it was closed for the day, but then got inside to be warned that we weren't allowed to take photos. What is it with these big houses that they take your money, then lay down the law about what you can and can't do. I remember once being told in a National Trust place that photography damages the fabric of the building! Well, it would if you had a big full frame camera with battery pack and you started banging it off the walls, but I don't believe cameras steal your soul and I don't believe they can damage the fabric of a building. Philistines! Interior was interesting, but I can't imagine what life must have been like in a great gloomy mansion like that, not even having the pleasure of taking some photos for fear that your hobby would bring the place down around your ears.
I much preferred the walk through the trees, especially the pinetum with its enormous redwood. Just walking in the sunshine under these trees, smelling the pine resin scents was a tonic in itself. We also inspected the kitchen garden, but it looked as if almost everything had been harvested fairly recently. There was very little of interest to see apart from some overgrown flowers and a poly tunnel with tomatoes and courgettes. There were some cordon grown plums, but two fat ladies were picking and eating the plums, at least, I hope they were plums or else there will be two fat, dead ladies in Scone tonight. Our last stop on the tour of the gardens was the maze and we wandered round half of it before finding the way to the fountain in the centre and so to the exit.
Before our walk in the woods, we stopped in the cafe for two baked tatties with haggis, two coffees and a shared strawberry tart, just to fortify us. Food was good and reasonably priced, but the prices in the 'gift shop' were daylight robbery. I know, we should have had a scone instead of a strawberry tart, just to say we had a scone at Scone, but we didn't. Maybe next time DV.
Drove back into Perth and stopped to get coffee beans and, because we could, we went to Nero for more coffee, then we drove home through the usual stramash at Dunblane and again at Haggs. Gave up at the latter and took the longer, but quicker way home through Kilsyth and Dullatur.
PoD was a view of the 'chapel' which is actually a mausoleum.
Don't know what we're doing tomorrow, but today was a good day. Glad we went, pity about the scone!