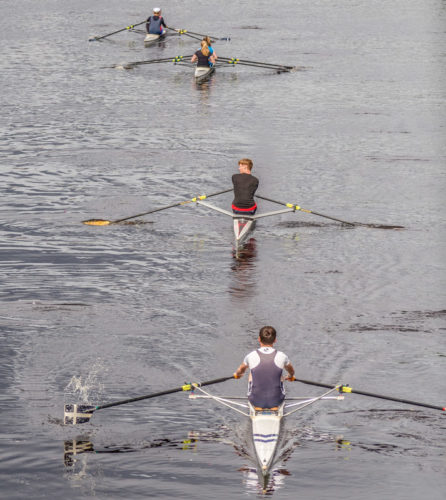 True to our challenge, we were out pretty early today and off down Glasgow Green.
Went for our usual walk around The Green to see the newbies taking their first steps on the road (or should that be water) to becoming competent rowers. There were lots of them out splashing about on the water. Lots of older gentlemen on bikes, carrying megaphones were shouting instructions to the more seasoned rowers. I don't know if any of them were actually listening to these encouragements, in fact I think I heard one shout back "Why don't you fuck off ya bastard". Of course I could have been mistaken.
We went to the People's Palace for the usual roll 'n' sausage for me and toast for Scamp, but horror of horrors, it wasn't flat sausage, it was two pork links in the roll and even worse, my coffee and Scamp's tea came in a cardboard cup! What it the world coming to when you can't get flat sausage or real crockery? Actually the link sausages were very nice, but the brown water was not coffee. By the time we were leaving some of the Ls, the Gs and the Bs, Ts and Is were gathering for some sort of festival thing which took up most of the Green. At first, thought it was a circus that had set up, and after some consideration, I was probably right!  Glasgow Pride weekend continues.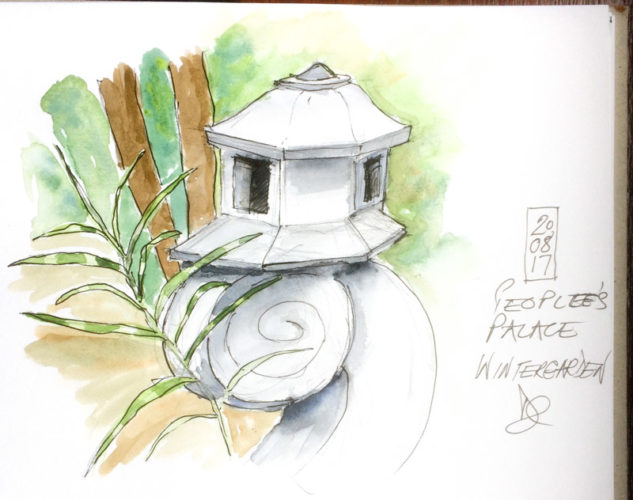 The afternoon was a bit of a lazy time. Didn't do much other than work up an ink and wash drawing from an ink sketch I'd done in the winter garden. I'm not that impressed with it, but it's done and there is some ink in it and it's finished. Just got it finished and my pen disintegrated, spilling ink over my nice new watercolour pad. No great loss, it's not such a brilliant pad. Might be good for acrylic, but the grain pattern is too regular for real watercolour work. Still worth the £3.  While I was engaged in this artistic endeavour, Scamp was completing one of her digital jigsaws.
Salsa tonight was great. It was in Arta and Grant was DJ, so the music was danceable. There weren't many men there, and as a result, I was in great demand. I don't think I sat down for more than two dances in succession. Totally wabbit I was by the end of the night.
Tomorrow we may go to the gym or for a swim if we can remember how to get there. It's been a long time.