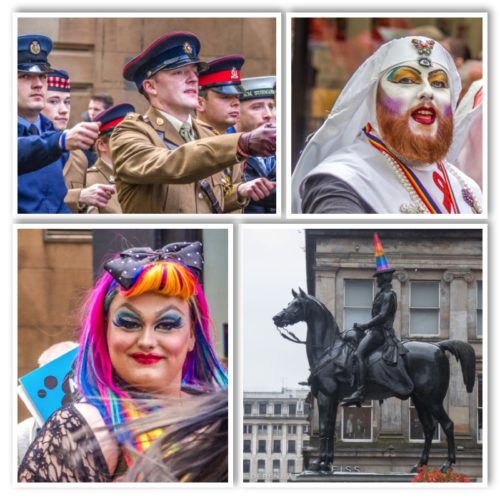 The sun enticed us out of bed and stayed with us until we left the house. After that it rained a bit, but it didn't dampen our intent to go in to Glasgow on the bus. We were going to see the 'maddies' at Gay Pride.
We'd been to see the gay pride march last year, hoping to see one of Scamp's old friends from work with her wife. Sorry, but I still find that a hard thing to say. Anyway, we didn't see either of them and today was much the same. We started out with a coffee in Nero and then walked up Sauchiehall Street to Waterstones. On the way I went in to Tiger to get a pair of readers, because I had forgotten mine. In there, I picked up a watercolour block for the princely sum of £3! That's about a quarter the price of the same sized article in Cass Art and they are the cheapest art shop in town. I'm not expecting much. It's not going to be hand-made 100% rag paper, but for £3 you can't expect miracles. Some people would say I always expect miracles! I was just going in to Waterstones when this bloke asked me how I was doing and if I was enjoying my retirement. I could almost see the Identikit pictures fluttering across my internal scanner as I tried to place him. Salsa? No, not salsa. High School? No, not high school, but there was a hook there. Teacher then? Yes. PT Tech from somewhere near. Kilsyth? Yes, that's it. Isn't the human brain wonderful. It's been over three years since I'd last met Andy and I've had almost no connection to teaching since then, but the filters and sorts on my organic database worked their magic again. We talked for a while about people we knew and the state of Scottish education. I knew it was going downhill, you only have to watch the Scottish news to see that, but it's much more pointed when you are getting the full story from someone at the chalkface. It was good speaking to him. I always got on well with him at PTs meetings. He was one of the quieter ones who had no need for arse licking. One of the few. We said our goodbyes and I wandered the bookshop trying to make sense of some of the things he had told me. For once I didn't even add a book to my book list.
Met Scamp who had been raking through the bargain at M&S, then we walked down Buchanan Street to watch the march. We missed the start of it, but caught the most of the celebration. It never ceases to surprise me just how good natured this march is. Yes, it's noisy and yes there are a lot of politicos there, but there is no bad feeling or even a harsh word. Everyone is just there to have a good time.  Even the rain showers didn't dampen their enthusiasm. I got a few shots, quite a few, and when it was over we went to Cafe Andaluz for a tapas lunch washed down with a nice glass of red. After lunch we did a bit more shopping. Alliterative Sparkly Sandals for Scamp. For me, an inconclusive attempt to get a pair of jeans that I like at a price I was willing to pay. Possibly an impossible proposition.
To round off our day we dropped in to the Horse Shoe Bar for a little drink before we got the bus home. I don't think Scamp was too comfortable on a shoogly bar stool. She's not used to drinking at height.
Oh, today's title doesn't refer to us, at least I don't think it does.  It was a discussion we had as we were walking back up Buchanan Street, wondering how many of those marching today with their rainbow colours and sequins were actually L or G or B or T or I.  We reckoned on about 50%.  The rest were just there for the fun of it or to support friends.  Why not?  That's what life is all about.
Tomorrow? Maybe a walk in the morning. Tomorrow may be the first day of a new regime. A fitness regime. We'll see how long it lasts.