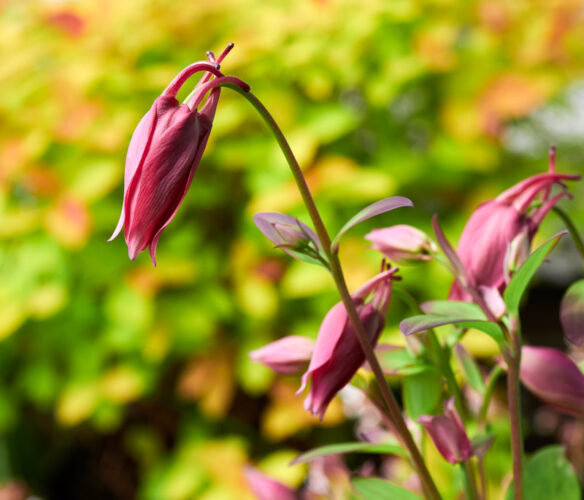 White sky this morning. No texture in the clouds, just milky white
At least it was dry and it remained so all day. The furthest we got was a walk down to the shops and back. Apart from the 'messages', Scamp got some Bizzy Lizzies for her Wanderella planter that hangs by the back door. She did get some last week too, but they turned out to be too big for the holes in the planter and were used up elsewhere. These ones were much smaller and fitted perfectly. I got some chocolate limes to which I'm addicted. Tonight I divided them up into bags of five. When I go out for a walk I allow myself one bag. When they're done, that's it until the next day. If I put ten in the bag, I'd just eat them all without thinking about it, that's why I limit myself to five. Not much chance of a walk in St Mo's today though.
Last night I found a tick. First one for ages. Today I found another. That's the walk in the woods at St Mo's off the list until the first hard frost, because the ticks don't seem to like the cold. Neither do I, but I hate ticks and that makes the cold bearable.
<Technospeak>
Apart from slapping Germoline and TCP on the tick bites, I found time to delve into the old NAS drive's hard drive. I found that if I booted from a Linux distro (a live Linux installation on a USB stick) on the Mac, I could access the drive. All the files are still there on the hard drive, but the drive is formatted to Linux and can't be read on a Mac or PC. What I didn't know was that I could drag the files from the old NAS drive on to an NTFS (PC) formatted memory stick and load them on to the Mac. I wanted Office 11 for Mac and that was in the downloads I'd stored on the old NAS. It worked! Well, it almost worked. The new Mac is running Catalina and it doesn't allow you to open any 32 bit apps. Office 11 is a 32 bit app. Game Over. Apparently I can still get Office for free by connecting to iCloud. A bit cumbersome, but it might work.
</Technospeak>
In the afternoon I did a bit of photography in the garden and that's where today's PoD came from. It's a Strawberry & Cream Aquilegia with a Spirea bush behind. That was in the hour or so of sunshine we had today. I managed to get a few shots of plants just coming in to flower. Good to see it.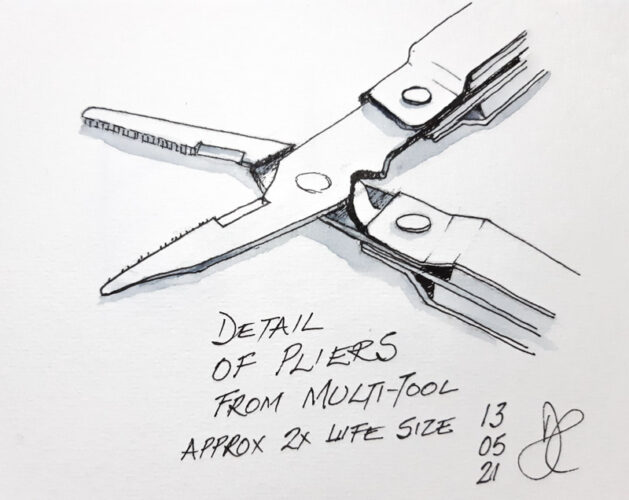 Today's sketch was to be A Close Up View of Something. I chose the pliers of the multi-tool I drew earlier in the week. Lots of lovely detail in the mechanics of the tool which allows the jaws to open and close, but to fold away again when you're finished. Cleverly designed.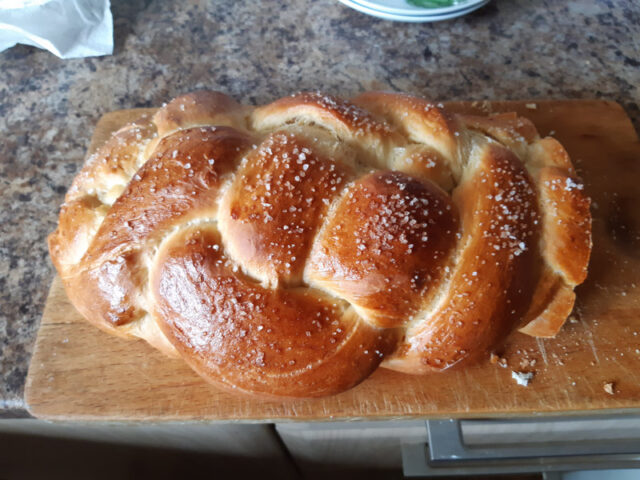 I forgot to post a photo of the Challah bread I made. As you can see we really needed to test it, even before I could get the photo taken. It's just as nice today.
No plans for tomorrow. Scamp and Veronica are out in the morning, so I might get some painting done.