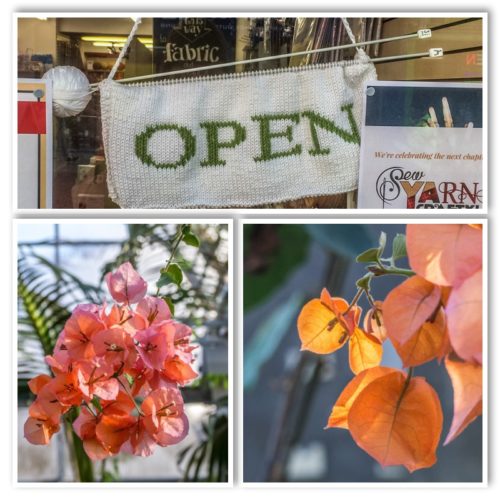 Scamp suggested that we get up and go for a walk in the park in Dunfermline.  Sounded like a plan except I fell asleep after she got up.  Still, we did manage to get out by just after 11am which isn't bad going, considering that I wasn't in bed until way past midnight.
It was a beautiful run over the Kincardine bridge to Fife and on to Dunfermline.  Got parked quite easily, and for free!  Walked through the park and stayed a while in the hothouse in the park.  The heat, humidity, plants and colours reminded us of Trinidad.  Unfortunately, when we went outside it reminded us of Scotland, a Scotland that was just above freezing.  No mosquitos though, so that was a bonus!
Walked up the dreary main street with shops either closed down or advertising their closing down sale – everything must go, including fixtures and fittings.  Not a good sign.  However, the sun was still shining and there were loads of people about.
Lunch was in a Wetherspoons and was cheap and cheerful.  Not exactly cordon bleu, but neither was the price.  Wandered round Waterstones after that and was tempted by a copy of an Anne Blockley book, but at £19 it's a hefty price for something I would read once and then cast aside perhaps.  It's £13 on Amazon and that's a bit more reasonable.  I'll try to get it in the library first and get a chance for a good look through it before deciding.
Run home wasn't quite as picturesque as the earlier journey, but was still showing signs that winter is perhaps on the back foot now, despite it only being a week since there was snow on the ground.
Gave the Megane a treat when we got home and took it for a run through the car wash.  I'm sure it drives better after that!  MOT tomorrow.
Jamie G was absent from salsa tonight, leaving Cameron to struggle through with the level 2s.  Worse still, it was Colin who took the advanced class.  Who knew that Slow – Slow – Quick – Quick was salsa timing?  Nobody tonight, that's for sure.  Next he'll have us waltzing round the rueda.  So that's what I drove for 45 minutes through awful traffic for?  If it happens again, I'm going home.
Hope you like the knitted sign Hazy.  Saw it in a craft shop in Dunfermline today.