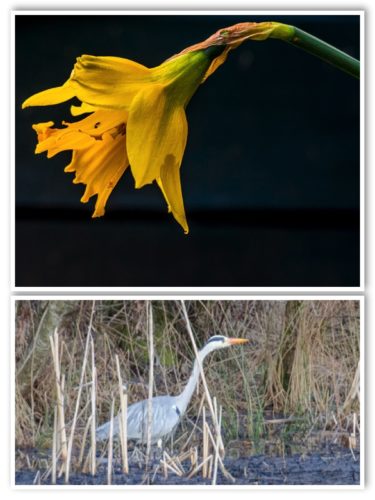 Scamp was out for lunch today so I took the chance (and the clippers) and gave myself an end-of-February crew cut.  It feels so much better than the mop I had yesterday.  Made quite a good fist of it too, even if I say so myself.  Lunch was the stewed chicken Scamp made on Sunday, then out to get some photos and a final sketch for 28 Drawings later … which wasn't as easy as I thought it would be.  I knew the photos would be easy because the sun was shining.  Ha!  Then things started to go wrong.
I'd chosen the wee house beside Fannyside Loch as my sketching subject, but when I got to the turn-off, Road Closed.  Not to worry, I knew another way round.  After fifteen minutes on a single track road I got the the turning that would take me back to the house.  Road Closed.  Access Only.  Well, that would have been fine, but access was denied too as a road roller was on one side of the road and a lorry with a load of asphalt was on the other.  Not to worry, I'd choose my alternative subject and rather than turn round, I chose to carry on and go through Slamannan.  Slamannan, if you don't know it is an old 12th century village on the outskirts of Falkirk.  Some of its original inhabitants still live there, I'm sure.  They look at you as you drive past with that "You don't come fae here." look.  Both brain cells frantically banging together, but the synapse isn't firing today, so it's back to drooling and chewing the cud.  I wasn't going anywhere fast, so I took the scenic route through Falkirk, mainly because there wasn't any other road, but the scenery was interesting with great views over the Forth to Fife.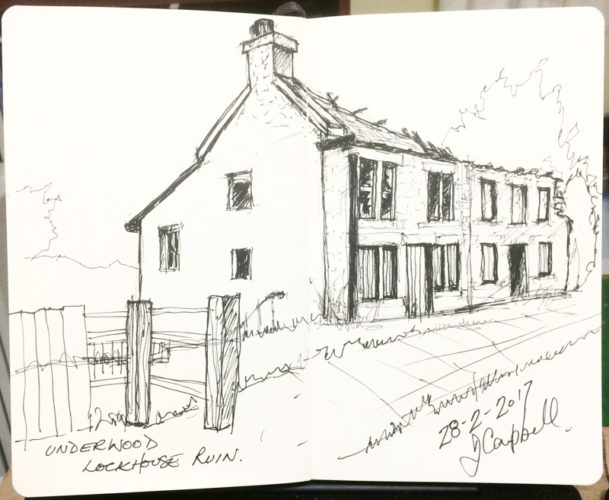 I came back through Bonnybridge and along the canal to my second subject choice of the day, Underwood Lockhouse.  Actually, the burned out remains of Underwood Lockhouse.  It dates from the early 19th century and was originally the two storey lock keepers cottage with adjoining stables.  A few years ago it was turned into a pub and restaurant until it was burned down in 2013.  Despite what people think, it is not a listed building.  It was also blocked off today.  Some moron had decided to drop a portacabin on the entrance to the carpark.  According to the painted sign on the side, the portacabin used to be the changing room for Allandale Boys Club.  I wonder if the boys carried it there themselves.  Anyway, it wasn't going to stop me, so I parked beside it, just off the road and got my sketch done, uninterrupted.
Got home and the sun was still shining, so headed for St Mo's to get some photos, but first chose to photograph the first blooming daffodil in the garden.  Found Mr Grey intently stalking some small fish on the far side of the pond and got a few shots of him.  Nearly got a shot of a couple of deer, but they were too wary and ran away.  I reckoned I had enough material to use for today so left them to it.
Sea bream and potatoes for dinner with Mango Mojito Pancakes for pudding.  Obviously designed by someone who had never tasted a Mojito before.  I don't think we'll be going there again.