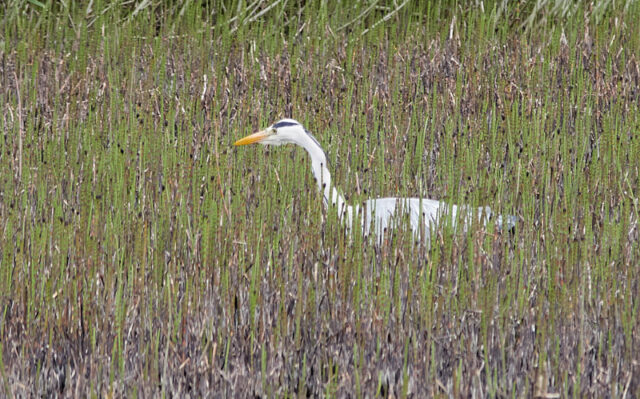 We went out for food this morning.
We had so stuffed ourselves at Peter's birthday bash yesterday that we didn't feel like having any dinner when we got home. Today we felt the need for a bit of sustenance. I suggested roast chicken and volunteered to make it. That meant a walk to the shops and a heavy bag on the way home because we bought a lot more than a chicken. Scamp offered to take the bag home and allow me the freedom to go for a walk in St Mo's. I said I'd rather carry it home, partly because is was so heavy and partly because I wanted to put my boots on to go into the boggy areas.
That's what I did and it was in the boggy area around St Mo's pond that I got today's PoD. I was using a really ancient 40-150mm Oly lens with a plastic lens mount that I've glued a few times to keep it working. For those who don't know about such things, most lens mounts are made of brass or sometimes stainless steel. The mount gets rubbed a lot when lenses are connected to the camera and a plastic mount will inevitably wear down with use. It's a sign of a cheap lens. I foolishly bought it, second hand some years ago and it's languished in a drawer until now. Although it's been repaired a few times, it still takes a decent photo and is the only long lens in my arsenal. The subject was Mr Grey, or more likely one of his descendants. He was hunting away out in the horsetails and I had to wade through the marshy area at the edge of the pond to get close enough for a decent shot. I was happy with the result. I wandered into the woods after that and found a Larch Pineapple, still looking fresh although all the pollen distributers looked as if they had shut up shop a long time ago. It was starting to rain, so I packed it in for today and came home for lunch.
Later in the afternoon Scamp and I had a fairly intensive practise of the Catherine Waltz and I was confident that tonight's lesson with the teachers would be a lot better than the last one. However, it was an even bigger disaster. Despite all my work, and Scamp's teaching I just couldn't produce the goods on the day. Even worse, after the lesson, we tried the moves again and every one worked out almost perfectly. It must be the pressure of 'performing' for the teachers that makes me nervous. Well, that's my story.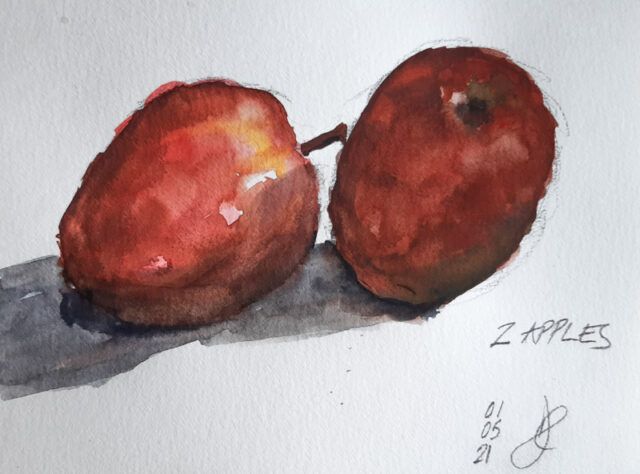 The other thing to do today was get the sketches up to date. Day one was Apples. Today it was two Bananas. If you haven't guessed, this week is based on fruit and veg. A rather easy start to EDiM.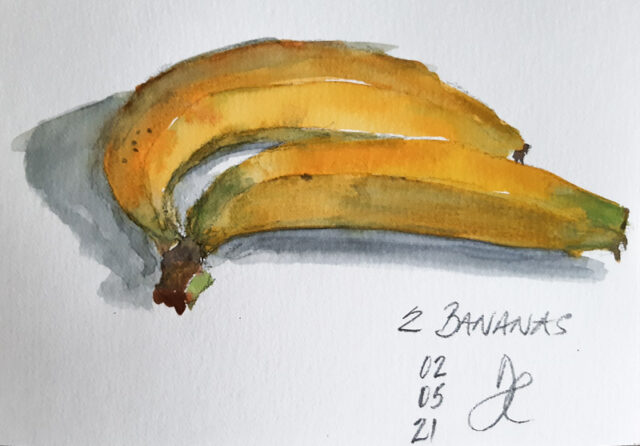 The chicken was good, despite me trying to cook a bit of the absorbent paper that the chicken rests on in the bag! I might not get in to Masterchef after all!
Tomorrow we are heading to East Kilbride in the rain to get Scamp her second jag. Nothing else planned.
PS.  Problems with the blog tonight.  It appears that the template I use for the blog became corrupted and had to be updated.  Hope it works with all of you out there now.