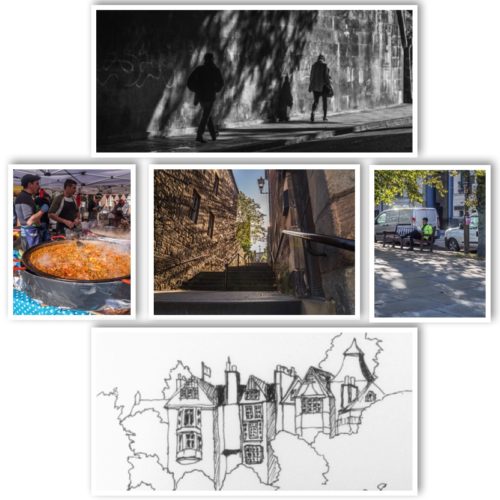 Embra was the choice today.  Now I won't go in to the semantic arguments, the place is called 'Embra' and that's it.
The train was fairly busy, but not excessively so – there's a reason for this sentence.  As usual we got off at Haymarket and walked up towards the tea shop.  It was shut!  I should have checked his website, it was there in black and white, or red and white actually.  Go there, you'll understand.  At the top of the road was the Exhibition Centre and also an enormous queue of middle aged and older folk.  Behind us too was a long train of people of that same demographic, most of whom had filled the seats on the train.  When we got to the Exhibition Centre the explanation was plain.  It was a Tesco wine tasting.  The early arrivals were already getting pissed oops, sampling and this lot seemed to be waiting for the first lot to be poured out the door.  We moved on.  Coffee in Cafe Nero then a walk through the farmers' market.  I got some hogget for dinner tomorrow.  I suppose this is where farmers' markets win.  Hogget is a lamb between a year and two years old.  I'll taste it tomorrow.
On the subject of food, we went to a wee French place on the Grassmarket for lunch.  We'd been there a few months ago, well February actually, I hadn't realised it was that long ago.  French Onion Soup again for me – creature of habit and Toulouse Sausage with mustard sauce and mash.  Scamp had Crayfish in a Garlic butter, a very garlic butter followed by Chicken Supreme with six thrice cooked chips.  Foodies? Us?  Surely not!  Both meals were voted excellent and I'll say it again, we'll be back.
Walked round to John Lewis and went back to 1984.  Not the date, the book!  Apparently the St James Centre is being … refurbished … reimagined. Perhaps demolished is a better description.  All the shops are now closed and shuttered, except John Lewis.  They didn't get that memo, it seems.  It appears that it will remain like that until 2020 when, overnight, a new great new 'retail opportunity' will rise phoenix-like from the ashes.  Whether it will include John Lewis we'll have to wait four years to find out.  For now, it feels as hopeless as the novel 1984 did.
Got the train home and, if you remember back to the second paragraph, first sentence of this epistle, it was a fairly busy train in the morning.  The afternoon train to Glasgow was mobbed, by a much younger contingent, mainly young men dressed in tartan and with lion rampant flags tied round their necks.  Yes, Scotland were playing football in Glasgow.  It turned out they were playing Lithuania (I think it was a Lithuanian school team – a primary school team).  The fans all seemed excited and were guzzling Becks like there was no tomorrow.  It might have been to induce a coma that would prevent them from seeing the game which was due to start at about 7.30pm.  This was the 3.30pm train.  The game ended in a 1-1 draw.  It's easy to become cynical about football fans, especially Scottish football fans.  Too easy.
One sketch done for Inktober.  I'm happy with it.  Done in public in Princes Street Gardens.  Another step forward.