Thankfully, just after 'Hump Day' the middle day of the antibiotic course I'm feeling a lot more like myself, crabbit, sarcastic and generally a nuisance.
I didn't venture out again today although it was a beautiful bright day, well, it was for a while. After that the clouds rolled in and the bright light disappeared. At least the wind had finally calmed down.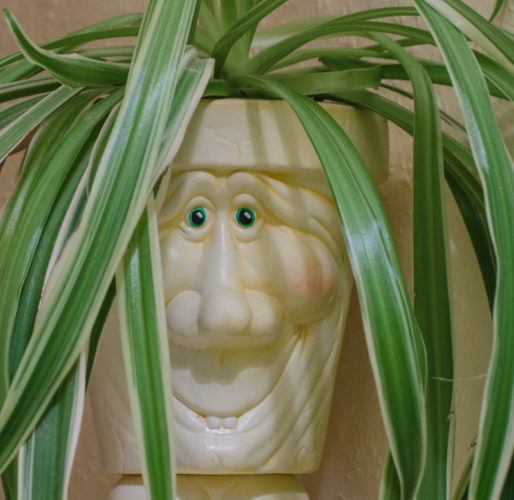 Scamp was busy writing Christmas cards and I had a pile to sign. After that we had to run the gauntlet of mail merging the addresses database with the MS Word template that holds the place markers. It's always a bit of a faff. It should be easy, but somehow Word never saves the settings, no matter how many different ways I change the settings. It really is a clever thing, the mail merge and once it's set up it should be simplicity itself to run, but it isn't. I shouldn't complain. At least Word has a mail merge facility. There's nothing like one in Pages, Apple's little toy word processor. That might be because I've a really old version and haven't updated it for years. Back at the PC we finally linked to the database and printed out the address labels. So I've got a big bundle of cards to stuff into a post box tomorrow.
Today's PoD is of the wee man plant pot holder that sits in the downstairs toilet. He makes me smile and look at those luminous green eyes.
I meant to mention yesterday that the Christmas Tree is now up and Fairy Nuff is in her rightful place at the top. Her second in command Grumpy Bear is also sitting among the branches. The Christmas lights box was opened and the letter from last year was read. Heads were nodded at achievements and "Hmm"s were hummed at things not done, that should have been. If this means nothing to you, it's just that you're not 'family' and therefore not party to this annual event.
I said back there that I have to post some cards tomorrow. Since Scamp will probably be half way to Blackpool for her Witches Short Break, I will have to drive the car, my car, myself. This should be achievable as I've managed to sit at the computer for an hour or so at a time today without too much discomfort. That, therefore, is the target for tomorrow:
To Drive To Tesco And Post Some Christmas Cards.