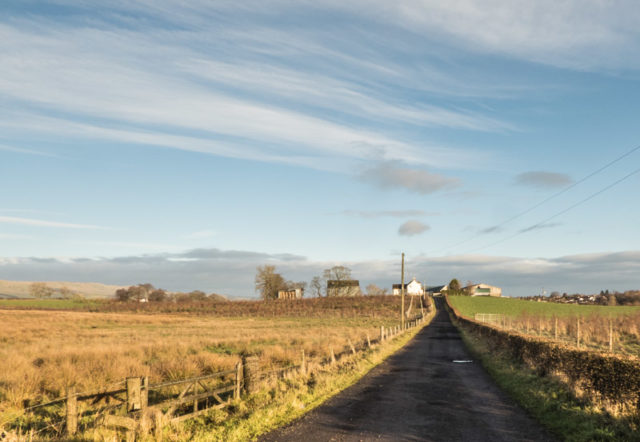 Today was a driving day for me and a passenger day for Scamp.
I'd intended going out early as I knew I'd be up about 8am because Scamp was getting picked up at 9.15 to go Falkirk to get the coach that was taking her and the other Witches to Norbreck Castle Hotel in Blackpool for an overnight with dinner. Tina Turner and Neil Diamond would be there, but it was uncertain whether they would be played by the same person or by a couple. Who knows (or cares). It was when I saw Scamp off I noticed James's car was still covered in ice and then, that mine too was frozen solid. On that basis, it might be a good idea to just have a cup of coffee before attempting to drive.
A well as the coffee, I thought this would be an opportunity to tidy out the top drawer in the 'Painting Room (i.e. back bedroom) and that's what I did. One old dead tablet went in the bag and one old dead Kobo e-reader joined it along with a host of boxes, odd scraps of cardboard and paper napkins for soaking up watercolour washes. Things that seem to find their way into that drawer.
With a bag full of junk of different types I drove to B&Q to look for rat traps. You see, the 'rat man' came last Tuesday and then again on Wednesday and declared us free of the little beasties, but we're both sure they were just playing Hide 'n' Seek with him. I'm not so easily put off and even better, I have a Plan. The first phase is to trap the beasts, except they only had cheap traps in B&Q and I had decided to get the better Rentokil ones. No problem, I'd drive to Bishopbriggs after I'd dumped the rubbish. Rubbish disposed of, off I went.
Now the Juke is a strange car. Two weeks ago and early last week before the Lurgi struck, it was running like an arthritic slug. Today it was raring to go. Pulling at the leash like a mad thing. I must give it a rest more often … and put some high fibre fuel in it too to keep its engine from getting clogged. Maybe it's the sunshine that's making it run better, because there was a wall to wall blue sky today. Got the traps and drove home to set them. I put two in the loft and then put a mousetrap in under the kitchen floor. Let's see what they produce.
With hands carefully washed, I started to make my dinner which was Pork Osso Bucco, slow cooked and with a Mirepoix (!) which apparently is a sauce made from vegetables. I spoke to Scamp while I was making it.  Of course, she already knew what a Mirepoix was.  Her hotel is on the seafront at Blackpool but on the outskirts.  She even sent me a picture of her 'sea view'.  Yes, you can see the sea, if you look very closely! My dinner tasted lovely. I restrained myself and left half for tomorrow. Best recipe I've found for that meat.
In the evening I watched the final 'Trust' and most, well some, well very little was made clear, but the tale was well told and the acting from everyone apart from Paul's mother was superb. Spoke to Jamie for a while and found out more about their Welsh excursion. Then watched Fast and Furious 6 trying to work out which parts had been filmed in Glasgow. I saw two definites and two maybes.
PoD was from the drive back from Bishopbriggs. I really liked the way the white house stood out from the sky.
Tomorrow? More tidying and checking the traps.