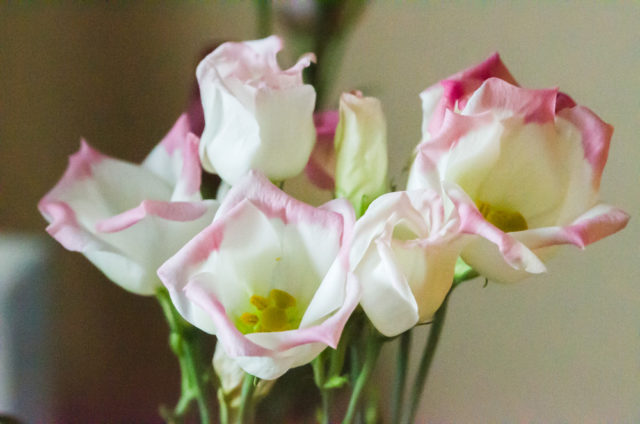 You know as well as I do that when a flooer or even worse a bunch of flooers is the subject, then it's been a lean day for photography.
Today was a particularly dour and cold day from the time we got up until the time we came home from salsa tonight.  As with all such days, there were bright periods.  Sometimes in the weather and sometimes in the day.  One such was going for a swim this morning.  We had both agreed that it was a sensible place to spend some time.  In the warmth of the pool, the steam room and the jacuzzi.  Not the sauna.  Apparently the sauna was broke.  Not broken, just broke.  I don't know what was wrong with it this time, but it looks like it needs some *essential Maintenance*.
I like the *Enclosing Asterisks* because I just found out about it recently.  It's called "Escaping the Asterisk" (notice I didn't do it there – you can have too much of a good thing, you know) and there is a trick to doing it.  Because I write this blog in a language called Markdown where you can include symbols in the text to perform actions for you, there has to be a get-out for when you want to show the symbol without it performing an action – are we clear on that so far?  I didn't hear any dissenting voices, so I will continue.  Right, the symbol for italics is the asterisk.  I typed the word asterisk there enclosed by two asterisks.  The problem appears when you want to show the asterisk.  To do that, you have to place a backslash (\) before the asterisk.  Still with me?  MEGO (My Eyes Glaze Over) hasn't set in yet? This tells the Markdown code to show the asterisk and not use it as as a modifier for the text.  Now the next problem is:
What if I wanted to show the backslash and the asterisk?  How would I do that?  Answers on a postcard please.
Anyway, to get back to the day.  We drove home and had some lovely chicken soup for lunch, then Scamp went out to source a pair of jeans while I messed around with a bit of painting.  I was just getting ready to go out myself when she returned without the jeans.  I drove down to the garage and booked the car in for brake and steering repair next week.  Tried to get some photos, of the snow covered Campsie Fells, but there was nowhere I was happy with the view, so I came home and photographed some flooers.  For dinner I made chicken and mushroom risotto and accidentally used too much butter.  Not healthy, just lovely.
Salsa was busy … with followers.  Only three leaders to start with so Scamp became a leader.  Thankfully more men arrived throughout the night and we ended up almost even. Setenta Tresario Dos and Malecon got us tied up in knots tonight.  Good fun as usual.
Busy day tomorrow with improving weather predicted.