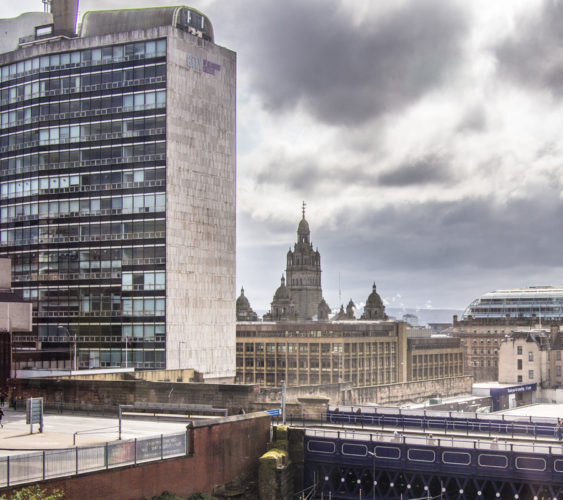 Sometimes I feel that the day just got brighter.  When I look back on it to see what it was that happened to make me feel that way, I realise that it's not what happened, but what didn't happen that made the change.  It's like finding something I was certain was lost.  I haven't actually gained anything, just not lost it and that subtle difference changes everything.
I drove in to Glasgow this morning to drop Scamp off at the hospital to have a *bite* as the dermatologist described it, taken out of her arm where the mole had been.  This was to be a larger excision than the one she had before we went to Trinidad in January.  Neither of us was talking about it on the way in, but it was playing through our heads, that was obvious.  As she was going to wait for an hour and a half before she would go to the theatre, and as she had company in the ward, I took my leave.
I wandered round the town, seeing nothing very much to photograph or to take my mind off the day.  Totally by accident, I walked into the exhibition room of Cass Art and admired the portraiture of the winner of the Sky Portrait Artist of the Year and especially his portrait of Graham Norton.  I saw the bloke who sits on the toy horse outside the Apple shop 'blacking up' ready for a hard day in the saddle.  I watched one of the beggars who's hands shake all the time outside Buchanan Galleries pluck a smart phone from her inside pocket and hold it to her ear, steady as a rock, then remember to start shaking her other hand holding her cup.  I walked back through to the car park and grabbed a few shots of the city skyline through the glass panels of the bridge and that's what you see above, slightly edited.  Well, considerably edited.
Drove home and found it strange to be sitting alone in the car going along the motorway.  Lunch was a *piece 'n' banana*.  Not long after I got the text from Scamp to say that she was back in the ward with a BIG bandage and then the text to say that a taxi was required.
Since she had been a very brave girl she got to choose tonight's dinner, which turned out to be a fish supper with a pickled onion and a tub of Tablet Ice Cream as pudding.  She deserved it.