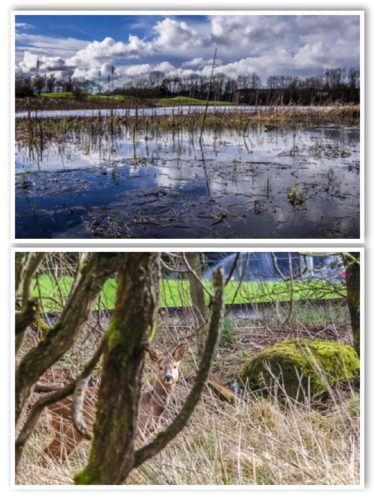 It's snow, of course and that's what we woke to today.  Not that deep and not that crisp as the temperature was three above zero and very uneven.  In fact it was just a scraping of show, but then, as I was making the breakfast, the snow returned, blown along by Windy Willie's wild westerly wind.  Now, that's what you call alliteration!
Once we realised that we wouldn't be snowed in any time soon, we decided to go to Falkirk to retrieve a ring, a substitute wedding ring, that Scamp had handed in last week for repair.  Not long after I retired we went to Ayr and Scamp tripped and damaged her hand.  I thought her finger was broken, but it was just badly staved.  So badly staved that the wedding ring had to be cut off because it was restricting the blood supply to her finger.  That was almost three years ago.  It took a long time to get the ring repaired, but today we picked it up from the jeweller looking as good as new.  Driving home was a challenge with torrential rain, hail and sleet driving straight towards us.
When we got home and had lunch, the wet stuff had stopped and the sun had come out again, so it was boots on and out to St Mo's.  I took the Big Dog with the macro lens and the E-PL5 with a 20mm lens.  A nice combo.  Just waked into the woods and saw two deer grazing down the path.  They were crosswind to me, so didn't sniff my deodorant I crept down the path walking on the grass, not on the broken twigs, so they didn't hear me either.  It would have been better to have brought the 300mm Tamron, but the macro gives such good quality results that I wasn't all that worried.  The landscape is from the 20mm lens, another good quality lens.
Got home and did a bit of messing around painting the hills with snow on them.  Four miniatures in different colour schemes and another four ready for finishing tomorrow.
Tomorrow?  Not got a clue.  According to the weatherman, the snow will be gone and the weather is set fine.  As usual, we'll see.