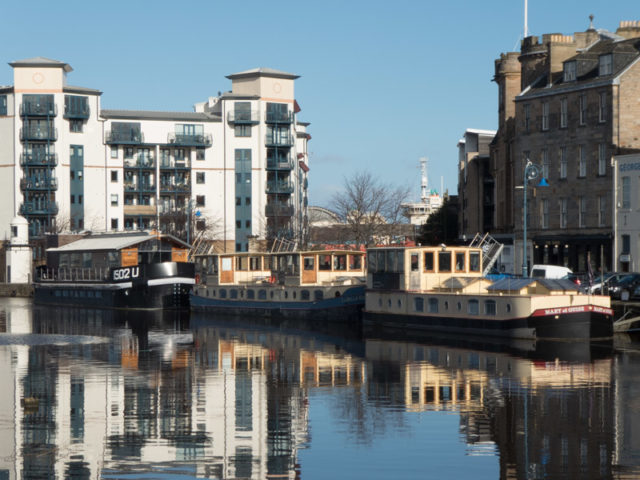 Today we had a light breakfast before getting a taxi to the station, then the train to Embra.  Today was Foodie Day!
When we got to Embra we found the bus stop for the No 34 bus that would take us to Ocean Terminal.  With diversions, because Leith Walk is partially closed, it took about 35 minutes to cover the 4 miles.  The train journey from Croy to Edinburgh only took 45 minutes.  This was the X3 of Lothian buses.  However, we were in no hurry, because we had plenty of time to find today's destination.  Had a cup of coffee in Ocean Terminal which is really just a great shopping mall with an entrance to the Royal Yacht Britannia, Mrs McQueen's old boat.  We weren't going there today, we were going for lunch at The Kitchin Restaurant.  It has been booked since November, such is the waiting list.  I was thinking "it better be worth the wait".  It was.
Nothing to look at from the road, there's a notice on the door telling customers to enter by Commercial Quay, round the back.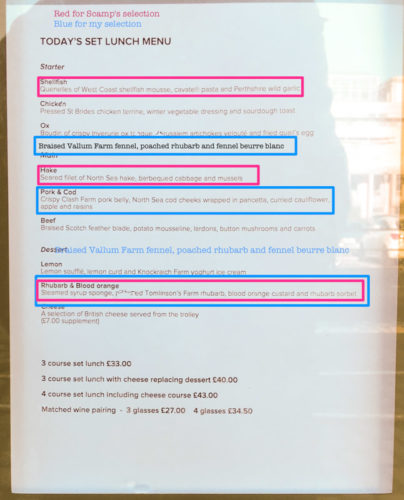 Inside it was dark grey paintwork with discrete little areas like booths, but more open.  The food was superb.  Just what you'd expect from a Michelin star restaurant.  I'd recite what we had, but I can do better than that, and show you the menu with our selections highlighted.  Just click it to see it better.  It's not a link to Flickr this time, just a link to the image.  My starter was from the Vegetarian menu because we were able to mix and match between menus.We also took the matching wine pairing and that really was an eye opener.  Truly an unforgettable lunch and not a potato to be seen 😉
After lunch we walked along and got a No 16 back to Waverly and it only took about 20 minutes and that because of traffic.  Got the train to Croy and a taxi home.  Strangely enough it was the same taxi driver we had in the morning!  Really, that's the barest of bare bones of the day.  Too much to cram in to this blog post, you need to hear about it rather than read about  it (ask about the amuse bouche Oh yes, and the bread Hazy!)  A really memorable meal and one we'd do again once we've saved up enough to go back DV.
Tonight's sketch is a coloured pencil sketch of an orange.  I described it thus:  "Oranges make great subjects because after you draw them you can eat them and destroy the evidence of your mistakes!"
Today's PoD was a view of reflections on the Water of Leith.
Tomorrow?  Auld claes and purrich I'm afraid!