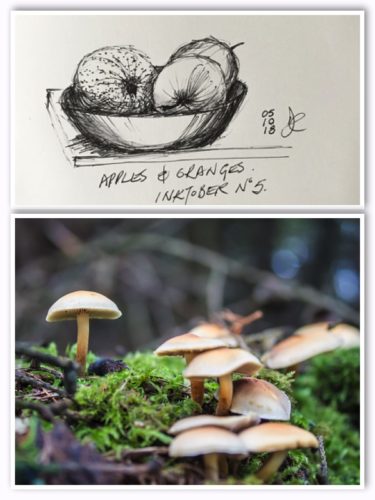 Today we went to the Fort. No longer Fort Apache.
Just went for a run, because we had nowhere else to go today. A few hours of retail therapy without too much expense. Also needed to clear my head and find something to draw. As it happened, I found something to draw on instead. Last year I discovered a lovely A5 landscape format sketchbook in Paperchase. It was only £3, half price. I presume they weren't selling well and that was the reason for the price drop. Paper was good although it didn't take a watercolour wash very well. Still, it was fine for pencil and ink sketching. Best of all, it was 'stitched bound' which means the book opens flat. Perfect for long perspective sketches. I went back to see if they had any more, but they were all gone. I've kept checking in the Glasgow shop to see if they got any more in, but all their sketchbooks now are wiro bound which is hopeless for what I want. Today I went in to Paperchase at the Fort and found two A5 hard backed landscape sketchbooks. I bought them on the spot. If only I'd looked there last year I wouldn't have had to skimp with my last few pages in the one I had. The only problem was I had to pay full price for them. A small price to pay, if you pardon the pun.
After that we went to Morrison's and bought it, just as we sometimes buy Tesco. Went in to get fennel and fish and came out with a trolley load of stuff. Then we tried to find our way home through the labyrinth that is the new motorway 'system'. Finally found myself at a roundabout I recognised and from there it was easy. Up until then it had been a nightmare because the Juke's sat nav didn't have the new roads in it. £125 for a new SD card with an updated map? I don't think so.
Came home and went for a walk in St Mo's where I found the fungi PoD. Quite liked it, even if the ISO was a bit high and so was the grain.
Left the sketching too late and was left with a poor drawing. I must try to get things done a bit earlier tomorrow.
Tomorrow? Don't know. It looks like it will be the better day of the weekend.