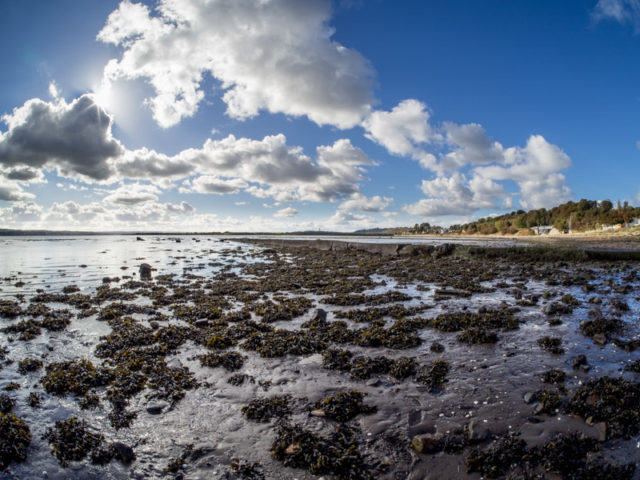 Late to bed last night, so I took a relaxed attitude to rising.
Eventually after some important computer work we set out just after 12 noon. The big question on both our lips was "Do we turn left or right at the roundabout?" Scamp chose Right. That excluded Glasgow and places west, but opened up the opportunities of the mystical East. It could be Stirling, Falkirk or maybe Dunfermline. However it was none of these, although Dunfermline was close. In fact it was Crossford. When we lived near Clydeside, there was a village called Crossford with the emphasis on the second syllable. The Fife Crossford has the emphasis on the first syllable. Who decides these things? I don't know. We were going to a wee plant nursery with a decent selection of good quality plants and reputedly a tea shop too. As it turned out the plants were in a sorry state and so was the fare in the tea shop. I don't think we'll be back.
Scamp ordered a chicken burger and I had the hand made quiche. I'm pretty sure my quiche was indeed hand made because it was thick, hot and full of flavour. Scamp's 'chicken' burger was anything but those descriptions. No, that's not true, it was hot. Thick? I think not, at about 10mm thick at its most portly. Flavour, yes, there was flavour there, but we weren't sure what it was. In fact, it looked like a flat sausage with those big white pills of gristle that make the Lorne sausage so tasty. But this was supposed to be chicken. It looked as if it had never seen a chicken or any other type of fowl. Foul may be too strong a word, but "it wisn'ae nice'. I felt so sorry for her, but there was bacon in my quiche and that wouldn't have suited the vegetarian in her either.
After our lunch we wandered round the plants and they were not in the best of condition. Yes, I realise this is the end of the growing season, but these plants were very poorly looking. If the RSPCA is against animal cruelty, this plant nursery should be reported to the RSPCP. Fairley's Garden Centre, do yourself a favour, give it a miss.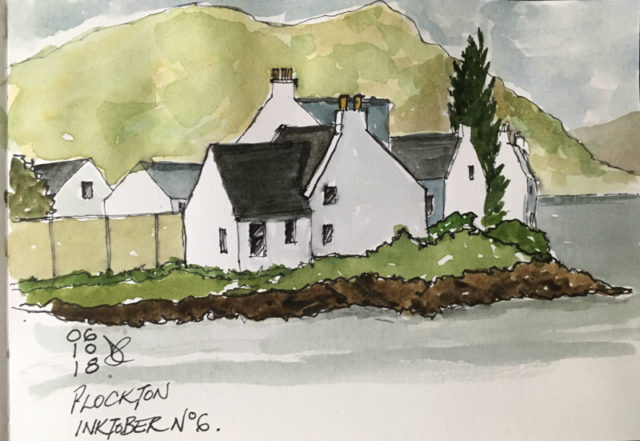 On the way home we sat for an hour in blazing sunshine admiring the view from Torryburn across the Forth to Grangemouth. Not the most interesting of views, but the cloudscape and the wide view from the carpark made up for that. Today's PoD came from there.
Today's Inktober sketch is based on a still from a TV program about Scotland's lochs. I think it's Plockton, but wherever it is, it's a beautiful place.
Tomorrow we are dancing, ballroom dancing in the afternoon! Not sure I'm looking forward to it, but it's something we have to do. Dancing among other people! Ooh Scary!