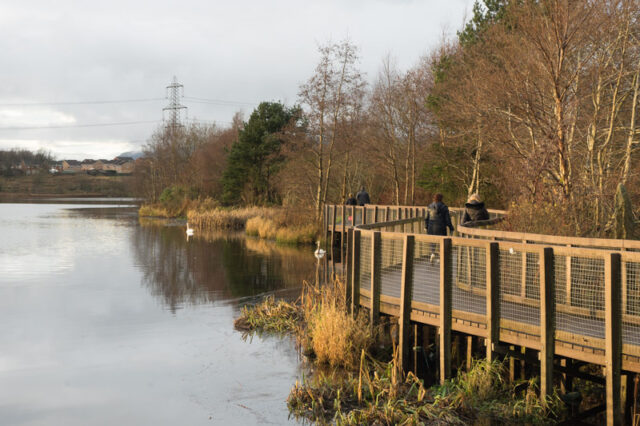 Nic the Chick has spoken.
We watched the news and heard that all of Scotland will now be on level 3 or lower. It must have been the worst kept secret of the year. However, it was good to hear that it was true. We return to level 3 after Friday. It's a pity that she didn't do the decent thing for the hospitality sector and drop us to level 2 as a wee early Christmas prezzy. That would have allowed folk to have a glass of wine with their meal. I hope the big fat man with the red coat and the reindeer puts ashes in her stocking on the 25th and that's not Alex Salmond I'm talking about either!
It wasn't until the mid afternoon that the rain stopped and the sun started to poke through the clouds. We got our cold weather gear on and went out for a walk. We attempted to walk down the path to the shops, but Cooncil workies were cutting down the bushes and eventually getting round to paring back the undergrowth. No warning signs, that a tractor was pruning the trees. Bloke toting the hedge trimmer didn't have protective equipment and was just wildly swinging at the snowberry stems. I got pinged on the face with a wee bit of flying debris. No point in complaining, they were just cooncil workies who were pretending to be gardeners today.
Further down the path another mob were just packing up. At least they had the sense to put warning triangles out. Must be "clean up the bushes for Christmas". Either that or the queen's coming to visit us. Can't be, there was no smell of fresh paint.
Anyway, but the time we were walking down the side of the football stadium the sun was sinking into the west and we just managed a walk along the boardwalk in the light. That's where today's PoD came from. This one is almost unprocessed. Straight out of the camera.
It was starting to get cold when we got back and almost time to do the prep for dinner. For me it was mince and beef olives. Both from Muirhead butcher. With Scamp's careful tutelage I managed to get it cooked to perfection. Scamp had 'pretend mince' which is made with brown lentils. I don't know about the lentil mince, but mine was fine, considering I made it.
Weather looks a bit better tomorrow with the chance of sunshine in the early afternoon