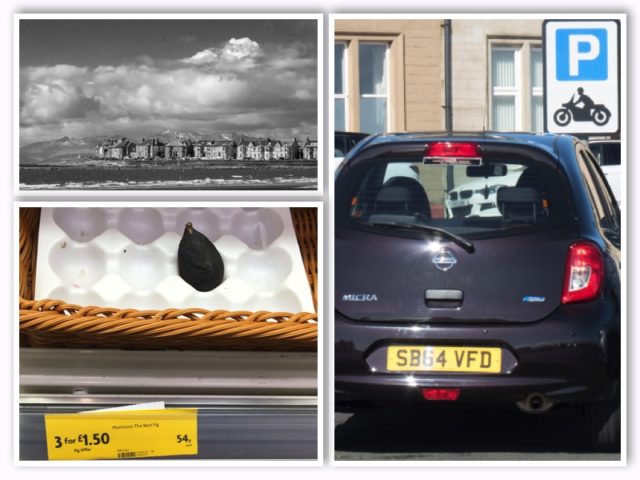 Today is Scamp's Birthday.
Because it was Scamp's birthday it was my turn to make the breakfast. I also brought up the presents for her to open. After that, Hazy phoned, then we waited for the post to arrive with Hazy's prezzy. An exciting morning.
Drove down to Troon for a walk along the beach before we went to lunch at Scott's of Troon. On the way down, Scamp got a FaceTime call from Jaime and Madeleine from Trinidad! Most unexpected and so nice to see them again, although I didn't contribute much to the conversation as I was driving.
Troon was busy because it was a lovely bright sunny day. Parked by the sea wall and walked along the esplanade to the sand dunes, then back along the beach to the car park. That's where I saw the Micra driver who thought he/she was a motorcyclist. Would these people park in a disabled space? Probably not, but they think it's fair game to park in a space for motorcycles. It would have been good if a hulking big Harley had parked right behind them, preferably with a hulking big Harley rider sitting in the saddle. That didn't make PoD. The accolade went to THE best fig in Morrisons.
Lunch in the conservatory of Scotts was lovely, and went as follows:
Scamp:
Alex Vause Gin cocktail (Hic!)

Selection of breads (shared)

Smoked haddock, king prawn and pea risotto

Sticky Toffee Pudding Sundae

Coffee
Me:
Selection of breads (shared)

Roast breast of chicken with carrot puree, veg, fondant potatoes and black pudding & chorizo bon bons

Mini Eton Mess

Coffee
After that we poured ourselves into the car and drove home via Morrisons, still in the sunshine that someone had ordered for Scamp's birthday. Whoever you were, thank you. It was worth every penny.
A lovely day with a lovely lady!
Tomorrow? Back to the real world. Hoping to go in to Glasgow with Fred to an art sale.