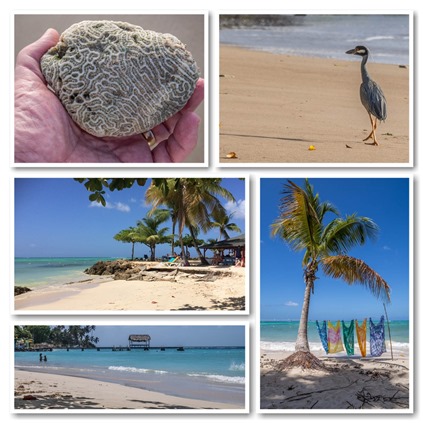 This morning, Jaime said that he'd prefer to drive to Pigeon Point rather than take the hotel minibus. We'd already agreed that hiring a car would be good, so this just meant that the hire would be a day early and it would give us more flexibility with travel arrangements, so off he went to arrange the hire. When he came back, he told us there was one problem, his driving license was out of date and needed to be renewed. It could be done on Tobago, but with the present backlog in licensing, it would probably take a whole day. Since my paper license is no longer acceptable for hiring a car, the easy way was for Madeleine to hire the car. With that settled, they both went back to the hire firm to seal the deal and soon arrived with the car. Our bags were packed and we then went to Pigeon Point and parked ourselves under an almond tree on the edge of the glorious beach with that beautiful blue sea beyond. Pigeon Point hadn't changed much since we were last there. The beach huts had been painted and had new roofs and there was now a new reception room for weddings and big parties, but apart from that it was the same.
Once we were settled, Scamp and I went for a paddle, but I couldn't resist the pull of that blue water and the prospect of little brightly coloured fish in the reef just a few metres offshore. After all, for once I'd remembered to bring my snorkel and mask, so it would be a much closer look this time.
The water was much colder for swimming in than I had anticipated, but like always, you quickly become accustomed to it and are able to concentrate on looking for interesting things on the seabed. Unfortunately, the sea was rougher than it had been three years ago and the sand was being lifted from the floor by the waves, so my vision, even with the mask was limited. Further round the corner there is another smaller reef and it proved more interesting. At least there were some fish there. I didn't want to stay there too long as I was out of visual contact from the shore and I thought Scamp would be worried I'd be swept out to sea or eaten by a giant crab. Actually it was Madeleine who was worried, not Scamp, but no matter, I'd snorkelled and I'd seen some fish. The next time we come back to Tobago – oh, yes, there will be a next time – I'll bring flippers too. Ungainly on land, but so much more efficient for swimming.
Lunch was Bake and Shark from one of the booths on the beach, but three of us agreed it wasn't a patch on the offering from Maracas. That and a couple of drinks kept us fed and watered until it was time to go home to Sandy Point. I got one sketch done in the interim and that's this little doodle here. Not very impressive, but it fits the bill.
When we got home, Scamp and I went for a walk along the beach past the airport runway and passed a big poisonous tree. The sign said BEWARE of touching bark, leaves, fruit or anything to do with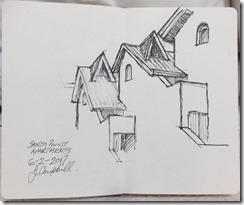 the tree as it poisonous and corrosive and can kill. Then at the bottom of the sign there's a not to say 'Don't Panic'! Watched the pelicans fishing for a while. When we got back from the walk, we sat with our feet in a VERY hot tub. Then Scamp went back to the room while I did a sketch that I would fake as yesterday's for the 28 Drawings Later page on Facebook. Just a slip of the pen really. I meant to write 7-2-2017, honest officer

Dinner was a marvellous Stewed Chicken with Plantain and Macaroni Pie. Sorry Sim, yours was good, and it was a close run thing, but your mum's had the edge this time.
Two rum 'n' coke's while listening to the entertaining Calypso singer in the bar rounded the day off.