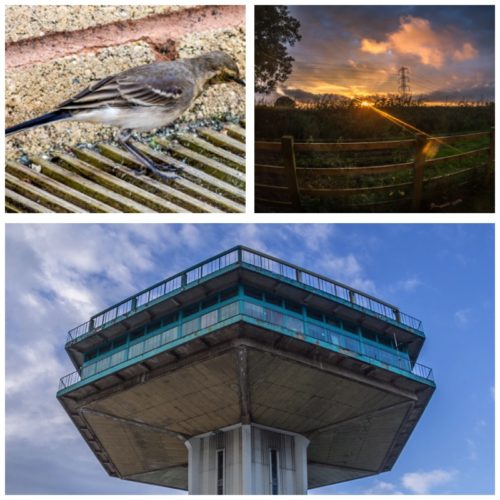 I'm going to keep this short and sweet.  The WiFi in this Travel Lodge is awful.  You would think in this day and age that they could afford broadband for their paying guests rather than dial up.  Unless it's BT based, because they seem to be having problems today.  They were not the only ones.
We expected, and got delays on the M25, but then we went on to the M40 and there were delays there too caused by … well, nothing really.  I'd love to see the motorway system from the air to see these phantom problems that seem to hold up traffic for hours.  On to the M6 and that is where the big problems started.  Queue after queue.  Some caused by roadworks, some caused by breakdowns and some inevitably caused by rubber-neckers wanting a good view of accidents on the south-bound carriageway.  By the time we got to the Travel Lodge I was exhausted.  Booked in and had a shower and felt a lot better.  Went for dinner in the services.  Oh dearie me, what a depressing place.  When we drove down, we stopped at Birmingham services and had fish & chips and it was excellent.  Today we had cold chips and something that might have seen the sea quite a few years ago wrapped up in yellow plaster of paris, at least that is what it tasted like.  Before you ask, "yes" I have eaten plaster of paris.  The yellow dye didn't improve the taste at all.  We decide not to risk the coffee and went down stairs to have Costa coffee.  Here is what I wrote in the Costa on-line complaint form:
"I'm sitting in an excuse for a Costa coffee shop drinking an excuse for an Americano from a cardboard cup because the dishwasher is broken.  Although there were lots of ceramic cups visible on the coffee makers we were not offered them, we HAD to have our coffee in a cardboard cup.  I assume this makes clearing up easier for the staff and to Hell with what the customer wants. I asked for hot milk on the side. That wasn't available either. Probably for the same excuse that cups weren't, but the girl operating the coffee maker offered to pour some milk into my already watery Americano from a plastic carton.  No thanks Costa.  I'll stick to Cafe Nero in future."
I expect I'll get a standard reply from Costa with a standard Costa gift card which I will cut up and put in the bin.
So, it wasn't just the plaster of paris fish and the cold chips, it was also "couldn't care less" Costa too.  What do foreigners, French folk, German geezers, Spanish senoritas think when they visit one of these service stations?  Everything is overpriced and the food is inedible.  I remember the first time I travelled through France.  We stopped at a service station.  Everything was shiny and clean.  I had a jambon sandwich that had half a pig in it and tasted magnificent.  No plaster of paris there, even in France!  France, paris.  Well, I thought it was funny.
Today's photos were of a pied wagtail taken earlier in the day.  The imposing but falling apart Grade 2 listed tower at the Lancaster services and sunset through the hotel window.  Not much of a view, but just look at those clouds!
This was meant to be short and sweet, but I rambled and ranted on again.
Heading to the cold country tomorrow!