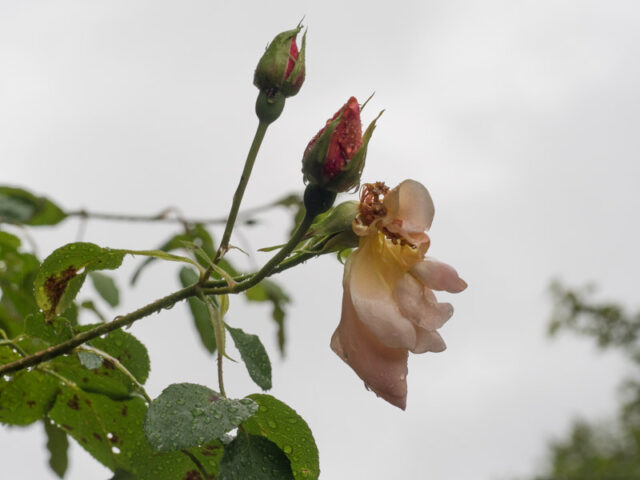 It did rain today, in fact it didn't stop raining all day!
It was raining when we woke. It's still raining now at just about 11.30pm. It hasn't halted all day. The furthest I've been today was a drive to Tesco for 'the messages'. We had intended walking down to the shops, but that would not have been a sensible thing to do. The smart money was on using a car for what it was bought for, making life easy.
I did manage to get a photo outside today in one of the spells of light drizzle when the weather was catching its breath. Out, grab four quick photos of the rose at the front door and back in again before I got properly soaked.
Schoolgirl is a beautiful climbing rose. I've photographed the buds, the opening flowers, the full flowers and what's left after all the petals have fallen. I think the last one is my favourite stage. Great for a sort of studio setup with plenty of lights and a low ISO to minimise digital noise.
I was amazed by the number of views Schoolgirl got. The highest view count so far is from 2010 with 31,695 views, 0 comments and 0 faves. None of my other flower pictures get near that amount of attention. Could it be something to do with the name, he innocently suggests?
There was nothing else worth noting today apart from the weather forecast. According to the weather fairies, there may be a little less rain tomorrow. Hoping not to get washed away going to Stirling in the afternoon.