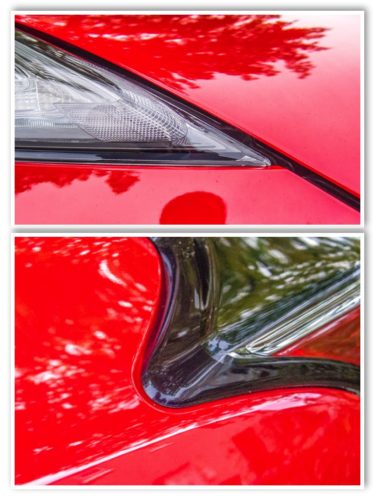 The overriding topic of the day was the Juke. Everything else paled into insignificance.
The day started with Scamp heading off to have coffee with her aunt. I struggled with an app on the Samsung. On the Mac it would have been easy and on the PC I had already solved the problem, but it was becoming a challenge to get it working on android. I finally solved it and got a grid of squares on a photo which I could then transfer on to a canvas. The squaring up was next to do and I then realised that it had been a mistake to paint the ground of the canvas brown when I was going to sketch on it with charcoal which is black. After a frustrating hour of programming and sketching, I gave up and painted over the brown ground with a creamy yellow. I left it to dry just as Scamp returned from her meeting with lunch in paper bags marked 'Greggs'.
After lunch we took a deep breath and drove the Megane to Stirling. An hour or so later we returned with a shiny bright red Juke after signing my name about a dozen times. The drive was comfortable and smooth. The car felt solid and dependable, but only time will tell. Scamp was delighted with her bouquet of flowers from the dealership too.
After a cup of tea and a read through the manual we set off for another drive. This time I had a fair idea how to use cruise control and how to program the radio and the sat nav. We found our way to Kilsyth and parked at Lidl to buy some 'messages' and then took a more twisty, turny road home along beside the canal. There are still some mysteries to investigate in the next few days, but that's the way it should be with anything new. One disappointment was discovering that Nissan want to charge around £150 for an SD card with the latest map data for the sat nav. I don't think I'll be going that path. I may look at a famous internet auction site when the time comes.
When we got home we celebrated the purchase with the bottle of prosecco which came from the dealership too.
Today's PoD were a couple of cryptic views of the new car, of course. What else could I choose on this bright and sunny day. All shades of yesterday have gone.
Coffee with Fred and Val and then what? Perhaps a short spin? Yes, I think so.