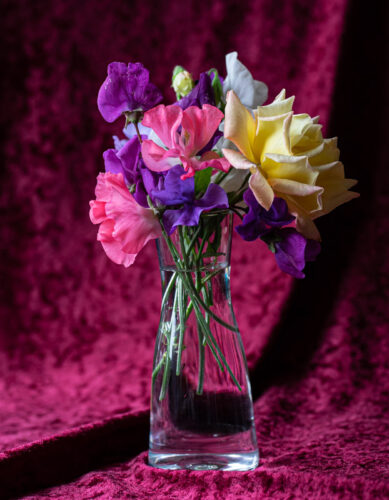 Sunday is a lazy day. That about summed it up.
In the morning, Scamp cut some of her sweet peas which have not been nearly as prolific as in previous years. If I was to hazard a guess at the reason, I'd say it was the container that was the problem. Scamp used to plant her sweet peas in an old orange box. That wasn't the colour of the box (it was painted blue) it was previous use of the container. It was a wooden box that used to hold oranges. As you can imagine, it was fairly old, dating from a time before cardboard boxes. It was falling apart and she made up her mind last year to take it apart and replace it with a plastic trough. I think the sweet peas prefer the traditional orange box. I have no proof of this, it's just my opinion, based on a life eating oranges.
While she was gathering the flowers I started making a loaf, just an ordinary loaf, nothing fancy. Left that to prove after messing up the proportions of water to flour. You'd think by this time I'd have a better idea of how much water to use, but my excuse is that I haven't made a loaf for a long while.
After I'd tidied up the kitchen and Scamp had arranged the flowers in a vase with an extra bloom from her rose, Troika, I offered to photograph it. An old piece of crushed velvet became the backdrop and the whole thing sat on the draining board of the kitchen sink. One of the images became PoD. We went for a walk in St Mo's in the afternoon and I collected a few more photos, but nothing as good as the flowers. I did get a dragon or two, but they weren't really all that successful.
Back home I got busy preparing my dinner main course which was going to be Lamb Tagine, using two lamb neck fillets. Pan fried the lamb with spices, dates and a chopped onion. Added orange juice and water and transferred the lot to the slow cooker to chug away do its work for a couple of hours. Then it was time to get the bread ready for its second prove, which I did and then went for a second walk in St Mo's looking for beasties this time. I found a grasshopper and a shield bug that was striding out along the kerb of the boardwalk. The grasshopper almost beat the flowers to first place, but I liked the colour combinations of the flowers.
Bread baked well and tasted fine. Tagine was great, but needed three hours slow cooking, not the two in the recipe. Scamp had a piece of trout and we shared calabrese and some of our potatoes. All were deemed good.
Tomorrow we may go out for a spin somewhere scenic!