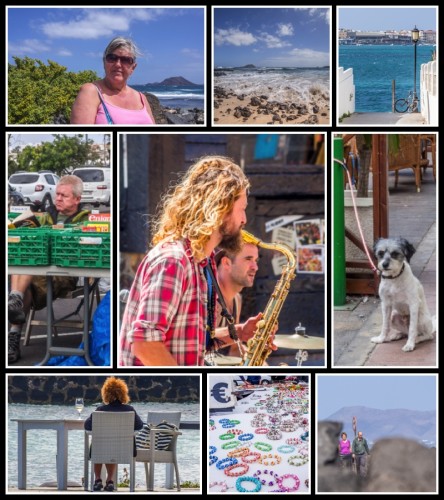 Making the most of the last full day. It started with grey skies, but by the time we headed off after breakfast, the sun was breaking through. We were headed again for Corralejo town. Basically it's north to the town or south to the dunes. East is the Atlantic and there is no road west. We wandered round an open air market and I was thinking about buying a Rolex watch, but I couldn't decide between it and a Breitling. Both were €35. I decided to think about it. Scamp was taken by a woman's scam, selling wine bottle openers.  She had a slick pitch, but was no match for Scamp.
So we are now sitting in La Cantante in Corralejo having a mojito after another of their excellent tuna pizzas. On the walk back to the hotel. On the way we passed a wee shop selling souvenirs and I got two shirts for €6. A bargain at twice the price. Ok, they were so thin you could spit peas through them, but bright cheery colours to match my sunny disposition.
When we got back, there was just enough sun left for an hour or so on the sun beds. Then it was back to the room to pack. 🙁
As you can see there were a lot of photos taken today.  To get a better look at them, visit my Flickr page by clicking on the mosaic.