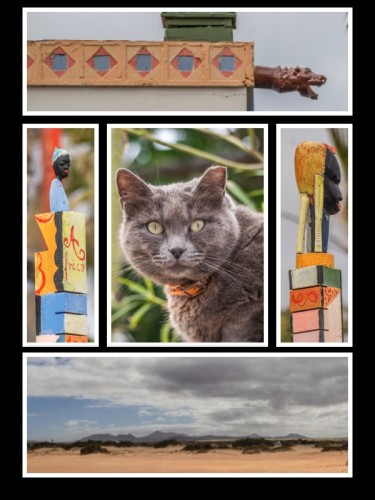 Today started like yesterday with a search for a couple of sun beds together. We found them by the pool just outside the flat and that is where we stayed most of the day. The day began earlier with a sensible preparation for the sun. Rather than be caught out like yesterday we got thoroughly covered in sun cream. Then it was off to breakfast before we faced the sun.  The sun was not so constant today which was a blessing really because it was too hot yesterday.
WARNING!  MAY CONTAIN TECHNOSPEAK
After lunch we rested for a while beside the pool and then Scamp decided it was time for a walk. I'd said I wanted to do some painting on the dunes, so we headed up the road to the mini Sahara again. I didn't get any painting done, but I did confirm my suspicions that this end of the dunes is a nudist beach. Couldn't settle on a suitable spot for a painting and was getting exasperated with the camera occasionally overexposing. So started off back when I hit on the idea of doing a complete factory reset. I'd just done it when I realised that the over exposure only happened with the old kit lens. I checked it and sure enough, no matter what aperture setting I set on the camera, the lens aperture was stuck wide open. That would explain the overexposure. At least the overexposure in the camera. The overexposure of the blokes in the bushes was another matter entirely. Anyway, the reset seems to have made the E-M10 useable again.
Dinner tonight was in the Spanish restaurant where we had tapas to start with and then I had shoulder of lamb that simply fell of the bone – delicious and Scamp had salmon which apparently was quite good too. Pudding was banana flambé which was good, but with little evidence of any flames. Not like mine at all!
Tonight's show was billed as Radio Gaga, but announce as We Will Rock You. Actually, it was better than the full length show we went to see in The King's in Glasgow. The cast were all miming, but that didn't affect our enjoyment. Sometimes enthusiasm is better than ability.
More pictures of the architect's house, a desert shot and a cat for Hazy!