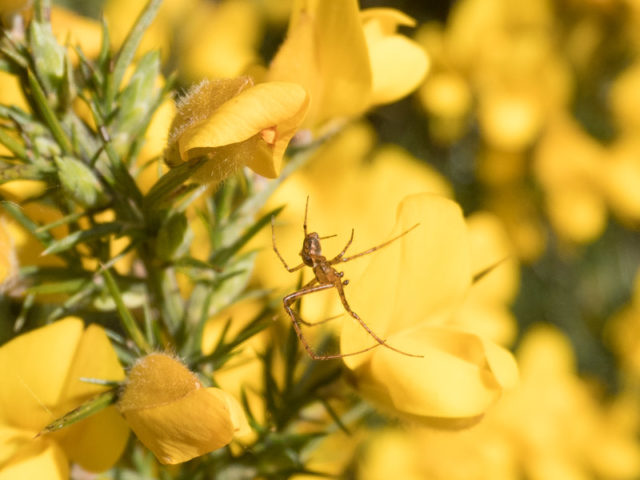 Driving again, but still the queues persist.
Tasks for the day:
Get some plywood to make painting boards
Fix up the sparkly new lights
Decide on dinner
Just to get it done, I fixed up the solar cell and then the two of us got the new lights fitted round the tree. It looks a bit untidy, but I think the effect will work when it gets dark. I still believe a rethink may be necessary, but they are unwound and in place for now.
After lunch we drove to B&Q to get the plywood. Saw the length of the queue to get in and drove back home. Got into our parking space again. Battery seems to be charging ok. No plywood, so instead I used a mini roller to put gesso on a couple of boards I'd found. Old Dalerboards that were probably meant for oil painting only, so I don't know if the acrylic gesso will stick to them. I'm sure I'll find out tonight or tomorrow.
I took the mandatory trip over to St Mo's for today's photo. PoD turned out to be of a spider apparently levitating in front of some whin bushes. I don't know what happened to the GX 80 I was using, but every shot turned out with the whin flowers looking golden rather than the more acid yellow they really are. Something went wrong somewhere with its colour balance. However, that's what we have Lightroom for. A little bit of sliding the sliders and all was well again. PoD nearly went to a photo of a girl bunny (not a bunny girl!) wearing sunglasses. I hope whoever lost it, finds it again.
Hearty Miso Ginger Chicken Soup was our dinner tonight and we both agreed it sort of worked, but not quite. Neither of us were all that keen on the miso soup, so we'd probably replace that with chicken stock. The chicken was fine. Cut into thin strips it cooks really quickly. We both liked the Pak Choi, but would reduce the amount of ginger as it seemed to take over. Not a complete rewrite of the recipe which stayed substantially the same, just tweaking. The one thing that worked for us was the bread. A dark mix of three types of flour, so I won't be able to make that one again!
Well, it took a while for it to get dark enough for the lights to come on round the tree, but they are sparkling brightly now so Scamp's happy with them.
Nothing planned for tomorrow, although it seems to be a little cooler than today.