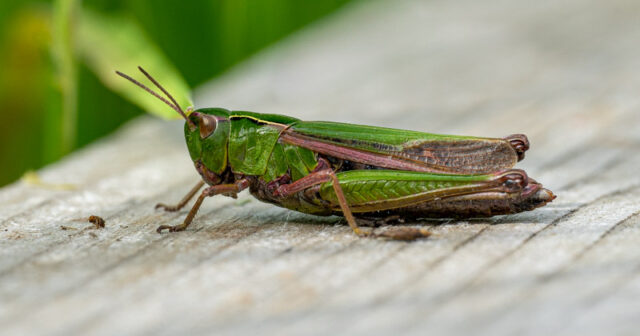 Scamp was off the leash today, off to a witches meeting. That left me with a day to fill and what a day it was shaping up to be.  It was going to be a scorcher.
I didn't even have to drive her to Denny, she had a lift already arranged with Jeanette. After she left, I got the Dewdrop down from its winter pasture in the front room and after a bit of a struggle, got the tyres pumped up. A quick spray of WD40 on the chain and we were good to go, and we would have gone, but first I wanted a photo or two, so it was off to St Mo's with the macro lens on the Sony.
The warmth in the last few days has brought on a hatch of lots of insects, but so far, no dragonflies. We still seem to be running a few weeks behind last year's numbers. There's nothing we can do about it, it's just a case of making the best of the opportunities that are available. Available today were Damselflies, Soldier Beetles, Lacewings and a Grasshopper. As well as the insects there was an interesting branch of dried leaves to photograph. Yes, I can see the rolling of the eyes. Let's just say it's a photogs thing. The Grasshopper, because it's such an unusual insect to find in St Mo's, won PoD. The rest of the menagerie, and the branch are available to peruse on Flickr.
I even managed to include a quick visit to the shops halfway through my photo safari and got the ingredients for a stir-fry which would make a change from pasta on a Monday. When I got home, there was the Dewdrop looking a bit sad because I'd been off playing in St Mo's and it hadn't had its run. The first run of the year! Possibly tomorrow. Because I didn't know if Scamp was needing a run home from Denny, I settled myself with my audio book and a glass of apple juice in the garden and enjoyed the peace and quiet for an hour.
When Scamp arrived home we shared a bottle of Bitter & Twisted, one of my best favourite beers. She took over my garden seat and I started dinner. This stir-fry thing is great. No real skill needed. Chop up the protein (chicken) and fry it. Chuck in some veg and fry it. Chuck in some noodles and some of the sauce and heat it through. Bingo, almost instant dinner.
Beautiful sky tonight. It started off gold and gradually segued through hot orange into pink. It was much more complex than that with at least three different layers of cloud, all changing shapes and colours at different rates.
Tomorrow looks even hotter than today. More Shorts and Tee Shirts and maybe a drive somewhere.