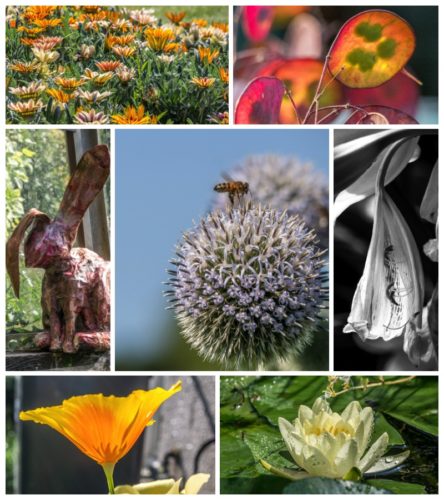 Today I had a retinopathy appointment where the nurse takes a photograph of the retina of my eyes to check for damage to the small veins and capillaries there.  As the nurse sometimes needs to put drops in my eyes to get a clear picture, I can't see very well for a couple of hours afterwards, so I had to get the bus instead of driving.  Since we were limited to the bus to start with, it made sense to use it again to go for a wee run.
It was a beautiful morning again and it looked like it would stay blue sky and sun for the rest of the day, so we headed east to Dunfermline in Fife.
We went for a walk through Pittencrief Park wandering around the flower beds.  I walked through the greenhouses too, but Scamp decided to wait outside in the sun.  We both agreed that the flower beds were looking a bit untidy, with weeds taking over in places, but if councils continue to refuse to increase the council tax supported by the Scottish government, then the less important jobs will not be done.  Corners will be cut, but unfortunately the grass won't be.
Lunch was in Wetherspoons.  Damned by some for having a boilerplate menu and a poor selection of beers, it suits us fine.  It is what it is.  Eat, drink and don't pay too much.  That's our motto.
Back home we sat in the back garden with a Pimms each and a book to read.  Enjoying the late afternoon sun.
A walk in the sun, beer and fish&chips for lunch, then Pimms in the garden and best of all, no driving.  What's not to like?
Happy Birthday JIC on a significant date 16 – 8 – '16.