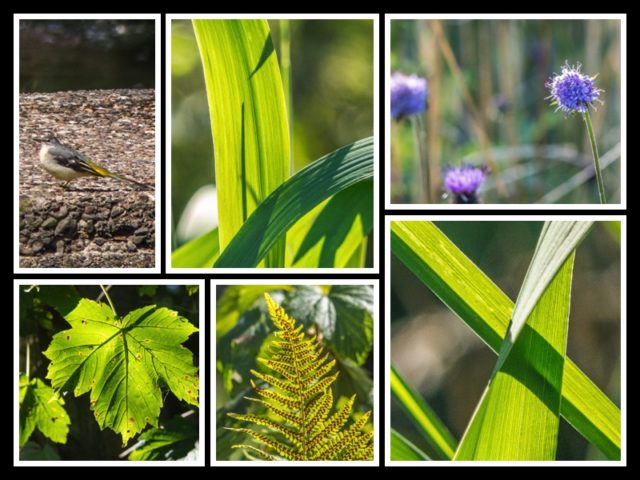 I'd read on a blog somewhere about taking shots of part of an object or even parts of an object and allowing them to define the whole and another about taking more time to study a shot before taking it.  They must have struck a chord with me because that's what I found myself doing today.  First when we went to Strathaven this morning after we'd picked up our new reading glasses in Larky.  We were sitting having lunch in a wee cafe.  The local secondary school was coming out for lunch too and for a time we were surrounded by school weans.  I felt quite nostalgic for a while.  Aye Right! (that mean's "No I DId Not" in Scotland).  Anyway, we were sitting next to a wall and over the wall was the Powmillon Burn and a beautiful fern lit by contré jour light (backlight). It looked good, and it still does after Lightroom has had a go at it.  I took another wide angle shot from the same position, but it did not come out of Lightroom very well.  In other words, it was rubbish.
That sort of set the tone for today's photos.  Also,most of them were green, like the fern, but one that bucked the trend was a shot of a Yellow Wagtail which wasn't a plant and wasn't green, but it WAS only a part of the frame, because I couldn't get closer and I only got one shot.  Remember, it's better to have one shot in the bag and then try to improve on it rather than fart about trying different compositions but then miss the shot entirely and end up with nothing.  The other one that wasn't green was the blue blobs shot which was taken with the intention of having only one flower of the three in focus.
After Strathaven, we came straight back home as I wanted to get the ingredients for tonight's dinner and Scamp wanted to cut the grass in the back garden.  Grass is also green, or am I stretching this too thin now?
With the dinner half made and having solved today's Sudoku puzzle while sitting in the garden, I went for a walk to St Mo's to see if there were any other parts of things I could isolate and that's where the leaf and the two grasses came from.  Back home I finished making today's dinner – Thai Green Curry.  Total coincidence!
Possibly one more glorious day tomorrow before the rains come.