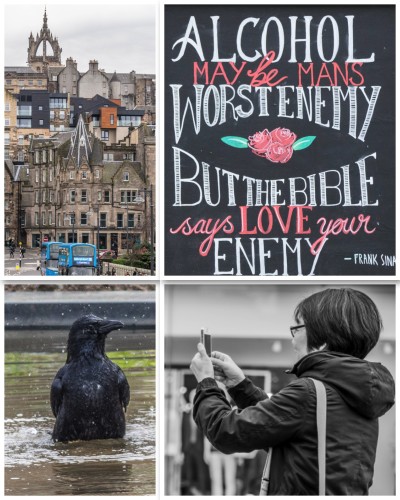 We went to Edinburgh today, hereinafter referred to by its real name "Embra".  Since the rail line to Embra is being electrified, the tunnel entrance to Queen Street Station in Glasgow is being closed to allow the necessary building work to proceed.  This means that trains will take a lot longer to get from Croy to Glasgow, 25 minutes longer.  That's 25 minutes added to the 15 minutes it took before last Sunday.  On the other side of Croy, all the Embra trains now stop at all stations to Embra, meaning an extra 10 minutes on that journey too.  Now, I can almost understand why it takes the extra 25 minutes in to Glasgow with all the redirection that's necessary, but I can't see why closing a tunnel in Glasgow causes trains to stop at all the stations from Croy to Embra.  Maybe it's a butterfly flaps its wings thing.  I never understood that either.
Anyway, the train arrived early, which was a surprise, and it was empty, which is unheard of.  Arrived in Embra and got tea (tea leaves, that is) at my favourite shop.  Walked up past the conference centre where there was a massive queue to get in to the Embra Comic Con, which at up to £27 for a ticket was really well named.  There were Doctors Who, Captains America and some vaguely demonic looking souls.  I said to Scamp that I should have worn my black and red striped rugby top and gone as Dennis the Menace, but she didn't think that I was taking the thing seriously.  As if!
Walked through Princes Street Gardens, enjoying the thin sunshine.  Went to John Lewis and looked around the Toys.  Not the kids toys, the big boys' toys.  Got an early birthday present of a camera bag.  Smiled at a bloke asking his wife if a radio he was thinking of buying was green or grey.  A constant topic of discussion between Scamp and I.
Walked back along to Zizzi and spent the voucher we got way back ages ago for complaining about the service and food in Exchange Square Zizzi.  Sometimes it pays to complain.  Squeaky wheels and grease.
On the way back to the train I went in to Waterstones and waited 15 minutes while a moron decided whether or not to buy a Dorling Kindersley book on Peru, because he was going there in June with a friend.  He has a friend?  Is it an imaginary friend?  I expect so.  He wasn't sure whether to buy the book or not, because the new version was coming out.  He asked the girl behind the counter when the new version was due out and she said it was due to be published early June.  He then asked her if that meant the shop would have it then.  She said no, it was published on that date.  "What exactly do you mean by published?" he asked.  I sighed loudly "For fuck's sake!" and walked away to go downstairs and pay for my book there.  How the hell is Peter the Peruvian Prick (alliteration) going to get all the way to Peru?
Go to the train station and ask Information "When is the next train to Peru?"
"It's at 3.30pm sir, but you have to change at Queen Street and remember it stops at all the stations, so it will take you an extra 35 minutes."
"What exactly do you mean by 'stops at all the stations'?"
"For fuck's sake!" Says the girl at Information and pulls down the blind.  "This position is now closed."
We went home in the train in the rain, having had the best of the day.  It stopped at all the stations.