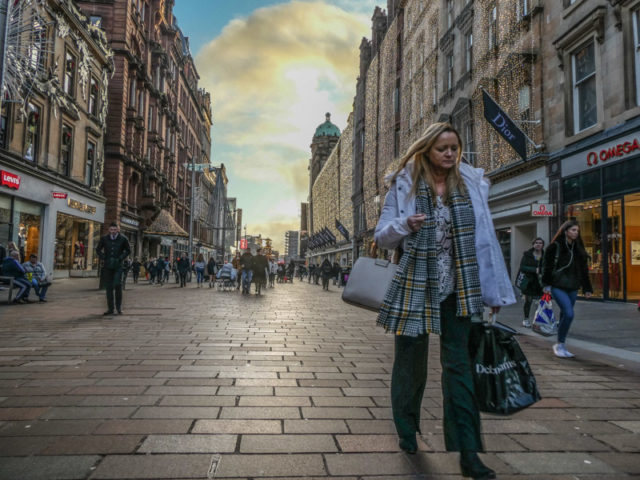 Success!
It was a foggy morning, but by the time I was up and dressed, it was just misty. Scamp went out to go to the chemist and when she got back I took the initiative and went our for a walk to see the work being done on St Mo's and also to get some photos, although the mist had gone by then. Work seems to be progressing quite well. The asphalt teams were still busy laying paths and probably one of them in particular was lying on the paths! (See Monday's post if you don't understand that last sentence.). I got a few shots and one or two were worth becoming PoD. But the time I was coming home, the sun was breaking through the clouds and spreading its light on the Campsie Fells. Best of all, I'd just got out before the 11am deadline. Feeling quite pleased with myself.
Drove to Glasgow and we thought we'd danced our new routine quite well. There were some mistakes, but not too many. Then Anne Marie wanted to go back reprise Over The Rainbow. Again, I made a couple of mistakes, but nothing too serious, I thought. AM then proceeded to make me repeat and repeat one of the moves until I said "Enough" and walked off. One way to make sure someone fails is to make them repeat and repeat a mistake they've made the first time. As a teacher you learn that three is the magic number. If a pupil repeats the same mistake three times, making them repeat it for another three is going to be counterproductive. Leave it. Move on. Come back to it later when, hopefully, the grey matter has managed to unfankle (brilliant word) itself. But she wouldn't leave it, that's why I said "Enough". I felt bad afterwards because I know Scamp enjoys the Wednesday ballroom and jive class and my actions today denied her that enjoyment. I may go back next week, but right now I'm not so sure, and that makes me feel worse.
We walked back into town to get some Christmas prezzies for Scamp's friends and while she was in the shop I managed to get the makings of today's PoD. Like I've often said, taking the shot is done in a couple of seconds, the making of the photograph takes a lot longer. Workflow tonight was Lightroom to ON1 2019 to Lightroom, but I was happy with the result. The sky was taken from another photo, but was representative of what I saw in the finder. No, I didn't use Luminar4 with its AI. I relied again on LOI. The finished thing got PoD.
"Tomorrow", Scamp says "is another day." Let's hope it's better than today's disaster.