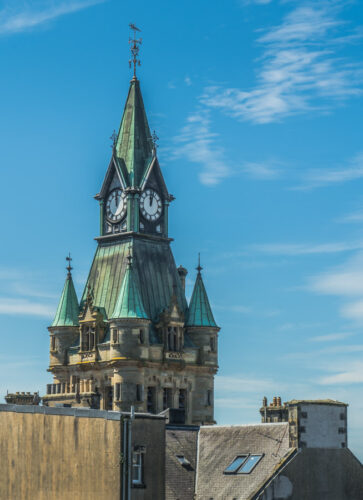 We took the bus today, but not into Glasgow.
We got the bus up to the Town Centre and then another one out to Dunfermline. Scamp's suggestion and a very good one too. Walked through the town that's now become a city, having been granted city status by Mrs McQueen at her Platignum Jubbly. We walked on into Pittencrief Park and down to the Peacock cafe in the park. There we made a mistake and had a coffee and a scone in the outside terrace. Please, someone, remind me never to have coffee and a scone in that cafe again! Especially if I know I'm intending having fish 'n' chips and a pint in Wetherspoon's later. What should have been a flat white became a latte. The excuse was that the dishwasher in the cafe was broken and they had to resort to disposable cups. That was fine, but why did they put one shot in the mug sized cup then fill it to the brim with milk? Worse still, why did I drink it?
We walked out feeling full and walked round the park. I forgot to mention that it was an absolutely stunning day. Wall to wall sunshine. After we'd done a circuit of the park we went to inspect the flower gardens. The one thing I will say about the park is that the gardeners do an excellent job. The place is immaculate.
The glasshouse in the park is rarely open, but today it was and we really enjoyed the varied and specialised plants growing there. My favourite was the Bougainvillea hanging above the fish pond. Beautiful big orange flowers, glowing in the sunshine.
We eventually left, because the heat was becoming difficult to bear and I fancied a walk to the Abbey which isn't far from the glasshouse as the crow flies, but the problem was we weren't crows and we weren't flying. So, we'd to walk down an the old worn stone steps into Pittencrief Glen and then follow the river upstream until we found a bridge to cross the river. Then, of course we had to climb the same amount of stairs we'd just descended to get up to the abbey.
It was worth the climb. We couldn't get in to the ground floor area of the abbey because the stone flagged floor was being steam cleaned, but we might go back another day. Scamp wanted to look inside the abbey church which is really two churches joined together. Very impressive stonework inside and beautiful architecture. My favourite part of it was the flying buttresses outside and the perspective looking through them. Scamp was more interested in the stained glass windows, some of which looked really old.
Outside we found we were only a five minute walk back to the town/city. I always thing of places like Glasgow, Edinburgh or London when I hear a place being called a city. Dunfermline is really more like a small town, but someone thought it would be a good idea to give it a bit of a boost by nominating it to be a city and Mrs McQueen or one of her advisors agreed. Money probably changed hands too. Anyway, after some dithering and a seat in the park, we decided we would go for lunch in Wetherspoons, so we had a small fish 'n' chips each with mushy peas. Scamp had a glass of wine and I had a pint of lager and all for the princely sum of fifteen quid.
After that we made our way back to the bus station and caught the bus home. For the first time on my new smart watch, I achieved my 10,000 steps. Let's hope there are plenty more.
PoD was a shot I took just after we arrived and it shows the turrets of the City Chambers of Dunfermline towering like a Disney palace above the city's rooftops.
That was a good day. Scamp suggests that we should have one day a week where neither of us drives. I think that's a good idea. Tomorrow looks a lot cooler and duller than today, so maybe some gardening and just maybe a trip to the dump.