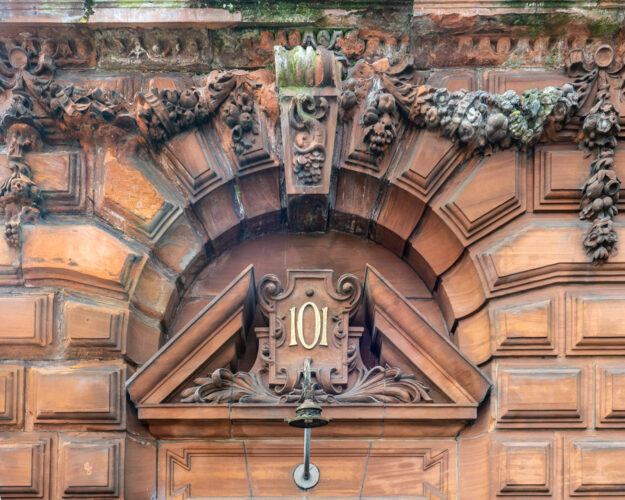 Today I was going to Glasgow on the train, to meet my brother. Unfortunately the Wee Red car wouldn't take us to the station.
A rattle from the starter made me think it was a flat battery, except the battery was only a year old. Starter motor? I had a look under the bonnet, but there was nothing to see. Nothing loose, battery connections tight. Not sure if the RAC would come to the house, because we don't have Home Start. The simple answer would be for Scamp to drive me there in the Blue Micra, but she's only driven it once or twice a year ago. However, she stepped up to the plate, locked the red car and got into the driver's seat of the Blue Micra. She drove me to the train station and I had plenty of time to get a ticket and get on the train. Meanwhile she texted me to say she had parked at Tesco.
I wandered round Bucky Street, because I was a bit early and it was a lovely clear morning, which was a change from the soaking Scottish drizzle at Croy station. I sat on the steps of the Concert Hall and took a few 18mm photos down Bucky Street to St Enoch at the bottom and on to the M74 in the distance with just the hint of Queens Park on the South Side. I was wearing a red carnation so he'd recognise me, but I spotted him first. Even from the back he was recognisably Alex. We met halfway up the stairs and after a quick hug we walked up Sausageroll Street.
Alex wanted to photograph some architecture and I suggested St Aloysius church on Rose Street. I really like this building and did a pen sketch of it some years ago. I can't remember ever photographing it though. Maybe I did, but it's so tall and there is no room to get distance to it, I don't think any of my lenses could have coped with it. The 18mm managed it today. From there we walked down towards the motorway and more importantly the beautiful wedge shaped ex-bank on Shamrock Street. Glasgow's version of the 'Flat Iron' building. While we were photographing it an older lady stopped to ask if we were interested in the building. She told us she lived in it and gave us a bit of its history. Built in 1909 and designed by architect Neil C. Duff. She said it was good that some people were interested enough in the building to photograph it. We thanked her and said our goodbyes.  Today's PoD was a view of the front door of the ex-bank.
From there Alex wanted to photograph some modern day graffiti on the Chinese Supermarket across the street. Then we went for a coffee in Costa and compared notes. Next stop was Union Street for a bit of tech shopping, but the actual purchase didn't happen because the queue was far too long. More graffiti on Mitchell Street (the lady picking people off the street), then a delightful tea and cake in the Willow Tea Rooms on Bucky Street. Never been in there before, but would go back again for the carrot cake!
All too soon it was time to go. We'd had a fairly comprehensive walk and photo shoot around central Glasgow. I got the bus home and Alex headed for the train. We've vowed to meet up again soon in two or three weeks, depending on the weather. I thoroughly enjoyed today. We will do it again.
Back home I brought tonight's dinner. A small fish supper for Scamp and a single large fish for me. I needed that after a day of sugar overload. Found the battery in the car was completely flat. It's been lying dormant for a long time, so maybe it needs to keep its wheels turning, or maybe there's something more wrong. I'm suspecting a flat battery caused by a dodgy alternator, but we'll get a charger tomorrow and try that first. One step at a time. That might be the theme for today.
No plans for tomorrow except charging a battery.