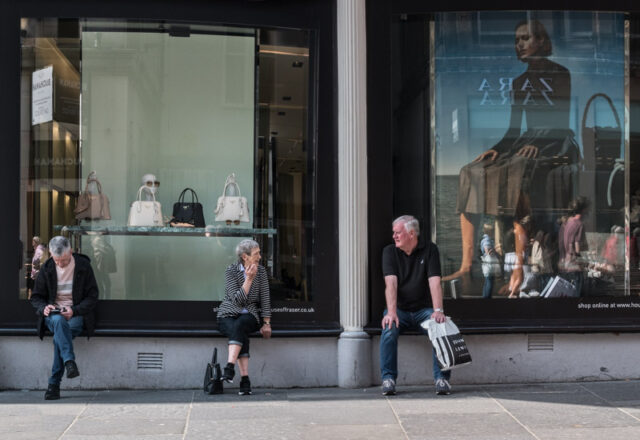 Today we were booked for lunch at The Cotton House. Note the capitalised 'The'. Not just any Cotton House, but The Cotton House!
Drove there and arrive just in time after a quick return to the house "Did I switch off the computer". Yes, I had switched it off! When we got there, and got parked in an actual space, an event in itself, the restaurant wasn't even open. Five minutes later the sign on the door was switched from Closed to Open and we were not quite first in the queue, but nearly first. Got a table and were told it was a one hour time slot. No problem. We could scoff anything they'd put down to us in an hour. Scamp went for her usual TCH standard: Thai Spring Rolls followed by Chicken Chow Mein. I decided to be adventurous and had Thai Spring Rolls (I usually have Chicken Noodle Soup) and Salt & Chilli Chicken, rather than the usual Chow Mein. Both starters were fine, although I'd have the soup next time. Scamp's main was just as good as it usually is. I can vouch for it because she let me have some to taste. I'd definitely order my Salt & Chilli again, we both agreed the chicken was excellent (yes, I did let her have a piece to see what she was missing!) Neither of us was really bothered about tea or coffee and we just paid and left, feeling bad because we had no 'real' money to leave a tip and there was no facility in the card machine to do it digitally. They used to bring a wee dish of jelly beans with the bill and I was thinking that in these post Covid days that might pose a problem, but someone was thinking about that and there was a wee plastic disposable tub of multicoloured sugar-heavy sweeties with the bill. Great idea!
We left Longcroft and headed for Glasgow. I wanted to have a look at a camera in JL (no surprise there, say some) and we both wanted a wander round town. It was a great day for it. This morning it had been heavy cloud, but on the way to Glasgow the clouds lifted and the sun shone. We wandered round JL. I had a look at cameras, but the one I was looking for wasn't there (surprise, surprise.) I heard one of the 'partners' (i.e. sales assistants) say to a couple of prospective customers that they "don't have their full stock in the stores yet." He added that they were hoping to have it in 'soon'. That seems to be a problem these days everywhere.
Walked down Bucky Street which is where I got today's PoD. It's actually a cut and paste of two images, but Lightroom is so good at this stuff, it would take and expert to see the join. If you are an expert and you can see the join, keep it to yourself. Nobody likes a smarty pants.
After a coffee in Nero – I'm getting like Scamp and beginning to despise disposable cups – we headed up to the car, stopping to allow Scamp a retail opportunity in the Pandora shop. I think she deserved it for surviving Lockdown with me moaning at her about everything I could think of.
Back home and the sun was still shining. I did think of going over to St Mo's to annoy some beasties, but I had a decent PoD and it was a rather warm and sunny afternoon so I planked myself in the garden along side an already ensconced Scamp and listened to some music. I even did a wee painting that's available for your perusal on Instagram. I think I've inflicted enough pain on friends on Facebook! I also had a beer to accompany Scamp's Pimms.
Tonight we travelled back a year and a few hundred miles to Venice to remember a sail-in we won't forget in a long, long time.
Our WiFi died about half an hour ago, so this blog is getting posted late. Checked the state of the connection with Virgin and was given the surprising news that our modem is being upgraded!!! After umpteen phone calls and emails with no response, suddenly out of the blue they say we're getting a new hub! I'll believe it when I see it. Of course the signal came back, otherwise you wouldn't be reading this.
No plans for tomorrow and it's too late to book another lunch out. Hoping for more sunshine. That will do instead.