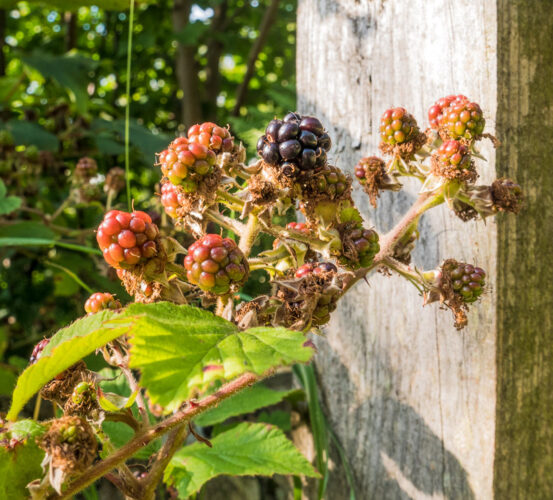 Went for a walk in the afternoon, hoping against hope for some sun.
It worked! The sun arrived and blue sky reigned for a while, then the wind got a bit more fierce and blew all the warmth away. It was lovely to look out at, but not so nice to be in it. We went for a walk before the wind arrived. A long walk, to post a card that won't be picked up until Monday and will probably be delivered before the end of the week, for a birthday that's tomorrow. Just all at sixes and sevens these days. Normal for me, but a bit unusual for Scamp. Sorry JIC!
With the card safely in the big round red box, we walked down to the shops to get what was needed for today's dinner. Back home I couldn't decide what to do with the rest of the day and finally got the track pump out and inflated the Dewdrop's tyres, dressed appropriately and took it out for a spin. Not a long run, just enough to blow away the cobwebs from me and the bike. Got today's PoD which is a bunch of early brambles. Only one of them is ripe, but it's early days yet. We need lots more sun and a little drop more rain. We'll probably get those two necessities, except the quantities will be reversed. It was pleasantly warm as long as you were out of the wind. Otherwise it was a bit chilly for August.
Tonight's dinner was Cod and Prawns with Fennel and White Wine. Sounds very posh, but it's really easy to make. Well within my capabilities.
That's about it for today. Tomorrow is still a mystery. No plans.