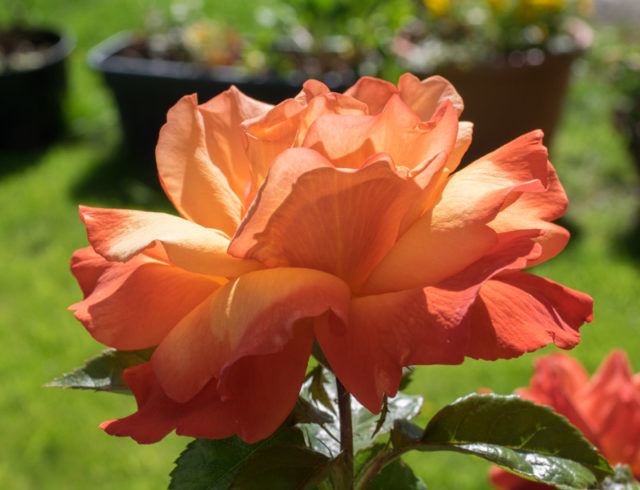 We drove in to town today to get some meat at a farmer's market and to have lunch. We got the meat and had two lunches!
The first part was simple. We got the subway from Bucky Street to Kelvinhall and walked along to the Partick Farmers market. There were a few farmers there and a lot of would be marketeers. Got the meat I was looking for, it was Hogget. Older than a lamb, but younger than a sheep. Bumped into Louise with her mum. Louise looked shocked that we'd caught them in the act of buying some cider. Heavens, you'd have thought they'd been buying Buckfast or MadDog!
Got the subway back to Bucky Street which was thronged with weans parading before going to the TRNSMT festival. Scamp was not amused at the state of some of them. I didn't mention that she, herself had had flowers painted on her arm at the Summer Ball a couple of weeks ago. But I suppose she was dressed more appropriately than some of the visions we saw.
Scamp offered me the opportunity to go to Paesano, but I knew it was a token gesture, she was looking for somewhere else, somewhere slightly posher. She chose Mediterraneo. We went in and got a seat right away, it wasn't busy. As usual, before our bums reached the seats we were pestered for our drinks order. Told the waitress we needed a few minutes. A very few minutes later she was back. That gave us time to scan the menu. We didn't need very long, because there wasn't much that stood out as interesting. After a couple of sips of our drinks the waitress was back looking for our order. She didn't get it. Scamp said we'd pay for the drinks and go. We have been there a few times in the past and the pizzas were really good. Today, all that was offered was Margherita with the option to add one meat and one veg topping. What were those veg and meat toppings? Who knows, because it wasn't on the menu. Left, not intending to ever go back. Instead, we went to Paesano and had two excellent well-fired pizzas. Didn't even have to guess what the toppings were, we just told them what we wanted and they arrived! That's the way to keep folk coming back.
Drove home and while Scamp soaked up the sun in the garden, I took myself off to Fannyside to attempt some time-lapse shots. I got them, but the breeze wasn't strong enough to make the clouds scud across the sky. Still, at least it worked. PoD became Remember Me rose from the front garden.
Another beautiful summer's day. If it's the same tomorrow we may go for a walk somewhere.