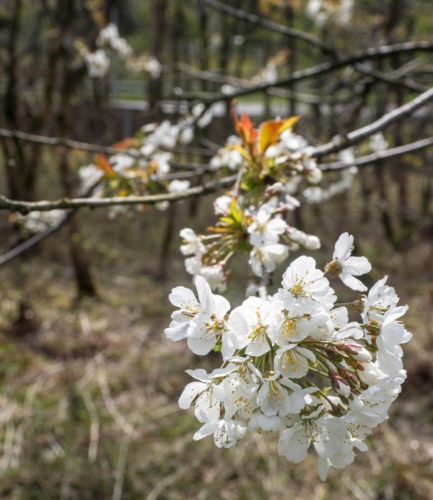 Firstly for food and later for exercise. Are you allowed to say "for enjoyment'? Or is that forbidden in this strange new world?
Went out this morning to go to the butcher's and passed a line of Wild Cherry trees, Gean, we call them. Thin, almost bare branched with a bunch of fluffy white flowers on the end. They never cease to cheer me up, even on a dull day. Today was a dull day and with a cold wind too! Walking back I decided I had to have a photo of them and this was the best one. I've been photographing these trees for years now. Not every year, but almost. The first camera I remember using to photograph them was an Olympus C2000z back around the year 2000. Twenty years ago! I must dig out those photos if they're still around. Anyway, that first walk was for essential provisions, which is perfectly legal.
The second walk was in the afternoon. Twice round St Mo's pond and a chance for more photography. If asked why we were walking round a pond twice I'd have to say that it was for exercise. No officer we did not gain any enjoyment out of the walk at all it was a route march over hills and through woods, purely to breath fresh air into our lungs. There is a theory that walking in pine woods is good for the respiratory system. I read that once officer. Luckily no officers were there to interrogate us on the reasons we were out of our house. It seems that some of our constabulary are taking the new powers a bit seriously and laying down the letter of the law, rather than its spirit.  We've not been bothered, but some people have.
Dinner tonight was an attempt at a chicken stir fry and although neither of us was one hundred percent happy with the result, it was worth trying again and another recipe that needs just a bit of gentle tweaking.
Spoke to Hazy tonight and she pointed us in the direction of Quiz which is a dramatised version of the attempt to cheat at Who Wants To Be A Millionaire. Watched episode 1 on the Amazon Fire Stick. Much quicker than trying to get the TV/Tivo combination to connect to it. Quite enjoyed it.
The other thing I watched was another instalment of Watercolour Artist on Sky Arts. I'd watched one episode before and it was fairly staid and "British". That's not a compliment. The second one was set near Edinburgh and involved three artists painting the Forth Bridges … two of them. Where was the other one, the Queensferry Crossing, the newest one? It wasn't on any of the camera shots. Only at the end did it become clear. The film was made in 1999!! That's even before my Oly C2000z! I believe "Scraping the bottom of the barrel" is the expression I'm looking for. That's another thing about the Lockdown. There is a dearth of new drama, documentary (except Covid-19 related) and soaps. Once we return to 'normal' whatever normal will be then, there will probably be a hiatus while the filming backlog is filled in. And then there will be Brexit …
Tomorrow we have no plans. Maybe more walks and maybe some dance practise.