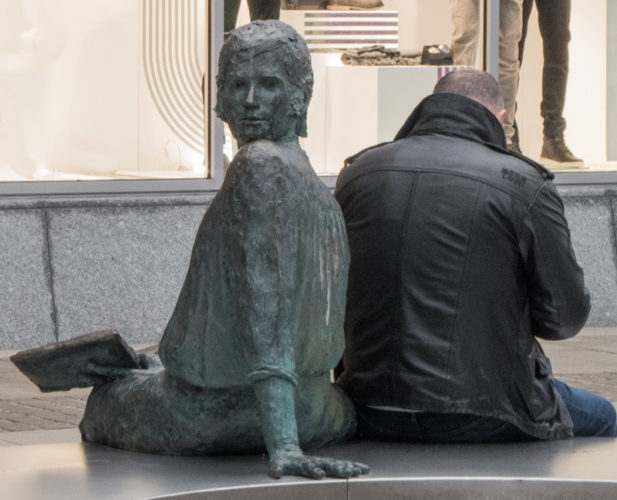 Not Troon and not Ayr, two of our favourite west coast places. No, it was the one between. The Cinderella of the west coast, Prestwick. That was our destination today.
Coincidentally, Prestwick was one of the favourite destinations for Sunday School trips. It had sea, sand and usually rain, so it fitted the bill perfectly. Today however, we were going for lunch. Scamp had an Itison booking for Elliots and we were going on the bus so I could have a glass of wine with my lunch. What could make it better? It was raining.
Out early, which is any time before 10am and this was just about 10am. We got the bus in to Glasgow and then the X77 to Prestwick. That's when it started raining. We walked along Prestwick main street which didn't take very long because, apart from some coffee shops there was very little to see. Lunch was really quite good. That may sound like faint praise, but apart from an over-sweet starter and Scamp's chicken tempura instead of the vegetable she ordered, it was excellent. The aforementioned starter shortcomings reduced Excellent to Quite Good.
After lunch we caught the bus into Ayr. Ayr was almost like Muirkirk yesterday. Not closed, but closed up. There were an amazing number of 'For Lease' signs all over the town. It looked like there were much more boarded up signs than the last time we were there. We didn't even go down the beach this time, just wandered round the shops and that is where I saw today's PoD.
As darkness began to fall and the light faded we boarded the bus for Glasgow and then the bus home. Not before we froze for a while in the bus station in Ayr where there is no waiting room, no toilets, not even an overpriced newsagents. What they do have is a row of cold aluminium seats and that's where we sat for almost half an hour. For those tourists flying in to Prestwick then going to Ayr before travelling on, Welcome To Scotland.
Thankfully both bus journeys home were quick, comfortable and with good connections. They weren't First Bus, of course, they were Stagecoach. You could tell as soon as you sat down on the seats. First Bus have seats made of plywood and cloth. Stagecoach insert a layer of foam plastic between those two strata. That's one difference. Also, Stagecoach buses have heaters that heat. That's another difference.
Tomorrow? Maybe Glasgow, maybe Stirling. Probably driving.