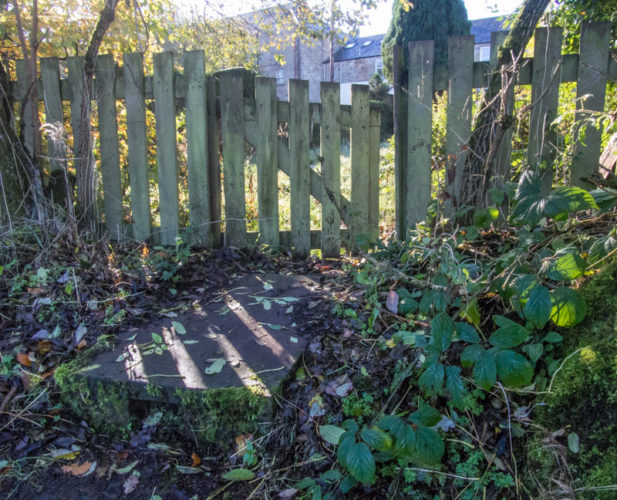 Just another of Scotland's spelling mistakes. Not pronounced Strath Aven, but Stray Ven. Why? It just is.  OK?
Drove up to Strathaven and parked just off the Common Green then walked to the park. As I was getting my camera bag out of the car I saw my PoD, that's it up at the top. It was the low directional light I liked and the way it produced the radiating shadows from the gate. One in the bag almost before we'd even gone a step!
Still, the reason we were in Strathaven was to go for a walk in the park. If you live, or have lived in Lanarkshire, you will almost certainly have been to Strathaven Park at some time in your life. Years ago it was THE place to go for Sunday School Trips. That was back in the days when almost everyone you knew went to Sunday School every Sunday. I was going to say we went there religiously, but thought better of it! A Sunday School Trip was just a giant picnic somewhere, once a year in the summer. If it rained, and it usually did, a church hall would have been commandeered and there we would eat our 'pieces', cakes and biscuits. We would drink our diluted orange juice or milky tea both would have been dispensed from giant teapots. Pre-made milky tea straight from the teapot? Maybe that's why I gave up drinking my tea with milk when I was about 15. Sunday School Trips were sometimes to the coast, like Ayr or Troon, but sometimes it was to a park, like Strathaven Park, or John Hastie Park to give it its proper name. As I remember it, it was great fun, but those were simpler times and a day in the park with cold meat paste 'pieces' washed down with cool milky tea wouldn't interest too many of today's teenagers. <Reading that back, I sound like some old codger!>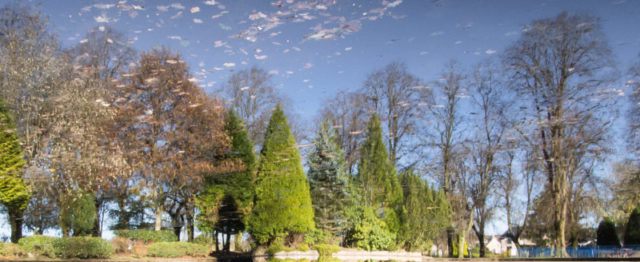 It had been a cold morning and I almost expected to see ice on the boating pond, but it was just one big flat calm stretch of water. That's it above, sort of. It's been dunked in a bucket of Photoshop and wrung out to dry. It's actually a mirror image of the boating pond and what you see is the reflection slightly desaturated and cropped to remove the 'real' scene. I think it's quite effective.
We had lunch in a wee cafe we went to the last time we were in Strathaven. Last time we sat outside in the sun, but that was August and this was November and the temperature was around 9ºc so we had an inside seat.
We left Strathaven behind and headed up the road to Muirkirk. It was a pleasant enough run on a beautiful day, but when we go there, it was shut. Not just one shop, but both shops were shut! Not much of a tourist trap then. Maybe we went there on the wrong day, but I don't think so. Drove back by a different route through Douglas then on to the M74 and home.
Beautiful day, good company and an interesting walk, even if I was walking through a different park, one from fifty years ago.
Tomorrow we have lunch booked.