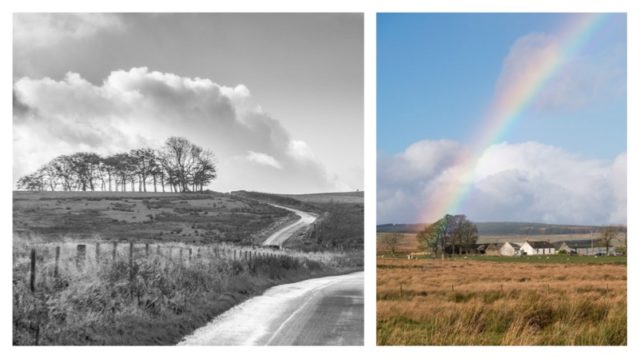 After a couple of early rises and stravaigin' days, it was time for a lazy start and a short run in the Juke.
It was a lovely morning and it seemed a shame to waste it on a long run, so we drove to Stirling over the Tak Ma Doon road. It's the first time the Juke has been up it and although it's only about 3 miles long, in that 3 miles it reputedly climbs nearly 1,000 feet. That's just over 300 metres. Given that almost half those 3 miles is on a gentle climb, the other mile and a half is the demanding part with a few climbs over 16%, ending in a 19% incline. A good test for the Juke. It did ok in Normal mode, but baulked a bit at that last climb. Not as good as the old Megane. It cruised up most of the way with a need for 2nd gear near the summit. The Juke needed 1st for the final assault. Disappointing, but then am I really comparing apples with apples when I'm judging a 1.6 litre against a 1.3 turbo? Perhaps not. Next time I'll use Sport mode and see how the Juke performs then.
The real reason for taking the Tak Ma Doon road was to get some photos on the other side of the Campsies, on the run down into Stirling. There's a gate halfway down that road with a draw-in beside it where the sky simply takes over. It's near Loch Coulter and looking over to Muirpark Farm. That's where I has heading for. I missed the first bit of good light, but took some photos of the twists and turns of the road over the hill we'd just climbed in the Juke. As I was framing up the farmhouse, a rain shower started, an then a rainbow appeared. It just grew and grew until it became the full bow, starting at the farmhouse and ending on the road away towards Stirling. I got as many shots as I could before it disintegrated. Like I said on Flickr, I could have faked it using Photoshop, but it was so much nicer to just shoot it first hand.  The rain shower didn't last and with a few shots in the bag, we drove on under a blue sky to Stirling.
Neither of us really wanted any lunch, so we just had a coffee  in Nero and watched hoards of Asian tourists, presumably from a bus tour, taking hundreds of selfies and photographs of groups of their friends in Stirling main street.  We've all been strangers in a strange land sometimes.  After coffee and a bite to eat we headed for home.  I'm guessing they did too.
Tonight we went to see the fireworks at St Mo's. A strange place to have a fireworks show, in a school grounds, but I suppose there's plenty of parking there and easy access for the fire brigade if the need arises! It didn't arise, but the fire engine did pass us a couple of times. Quite a spectacular show, lasting just about the predicted half an hour. Such a waste of money though. I always feel it could be better spent than on pyrotechnics. That said, it's better spent on a fireworks show than on a councillors Christmas junket.
It was the monochrome photo of the road and the trees that got PoD today.
No plans for tomorrow, but the weather looks good. May take the bike out of retirement for a run.