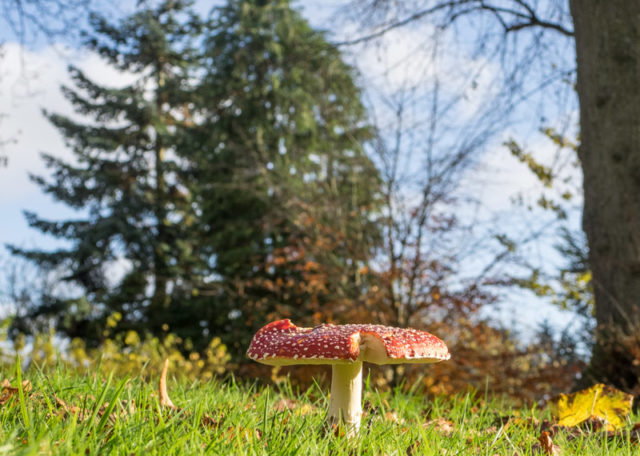 Yesterday was Gems day. A Tuesdays is rapidly becoming our day.
It was a lovely morning and we decided we had to go out and enjoy it. Scamp suggested Kirkintilloch and I suggested Dunfermline. Scamp then said that was her second choice and we'd go to Kirkie on our next free day, so Dunfermline it was.
The River Forth was shining beautifully when we drove over the Kincardine Bridge. I was tempted to stop, but I'd proposed Dunfermline and while Scamp wouldn't have complained about me taking a diversion, I thought I'd better stick to the plan. We parked just at Pittencrief Park and had a walk round the park in beautiful light shining through the trees and lighting them up. Found today's PoD there too. A genuine fairy toadstool. The notorious Fly Agaric. Look but don't touch unless you want to wake up in hospital, or never again.
The walk up through the town was less photogenic. Boarded up shops and more than their fair share of charity shops. It was like an outdoor version of the Cumbersheugh Town Centre. Good enough for coffee and a bit to eat though. After that we just walked back to the car, via M&S for Scamp and Waterstones for me.
As we were driving home the clouds seemed to be gathering, but I don't think they were serious about it because the forecast is for sub zero temperatures tonight because of the clear skies. Also, as we reached the Forth again on the way out of Fife, with the low sun the river was shining again. I resisted the temptation again.
Practised the Fearsome Four Jive moves for tomorrow and I seem to have a finger hold on them at last. I'll let the little grey cells work on them overnight and file the successful method away for further reference. Tomorrow morning we'll try again and all will be well, I'm sure.
That was about it for today. A lovely day, most enjoyable. Tomorrow, hopefully, we're dancing again.