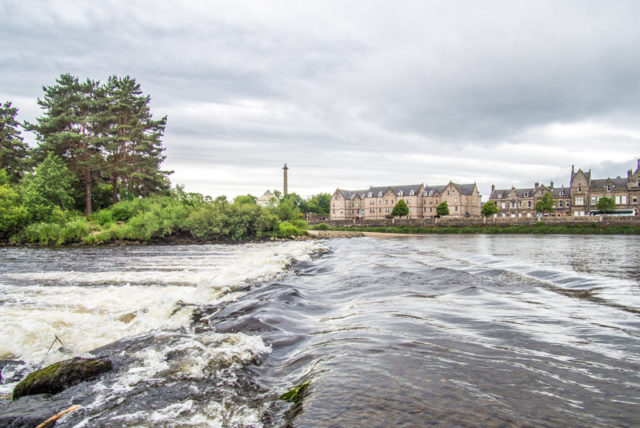 Drove to Perth today, mainly for coffee and tea for me, but also for a wee run.
Weather was fairly nice with warm temperatures and occasional sun. We were there fairly early, so we went for a walk down beside the river and on to the pedestrian path on the long, long railway bridge over the Tay and Moncreiff Island to the park and gardens on the far side. Beautifully laid out garden with lots of interesting plants and flowers. Also lots of not so interesting sculptures. Couldn't make had nor tail of most of them, even with a description. Found a ford that takes you over to Moncreiff Island, but the water was too high today to attempt it, but a photo of it provided my PoD. The island itself seems to be basically a golf course with some allotments in the middle. According the the gazetteer it has a population of 3.
Saw some baby coots and moorhens in a lily pond, but it was mainly the plants that interested Scamp. Surprised to see some amaryllis flowering in the open air. Massive great thick stems on the plants. Crossed back over and went to a cafe for lunch. Somebody remind me not to have the cheese burger the next time we go. The burger was fine, but the cheese was determined to have a conversation with me all the way home.
Bought some dried fruit to try for breakfast. I've just finished boiling it to soften it and to make a syrup for it. A bit of a faff, but hopefully it'll taste good tomorrow. Scamp fancied a pizza, so I made one while the fruit was steeping and it turned out very well.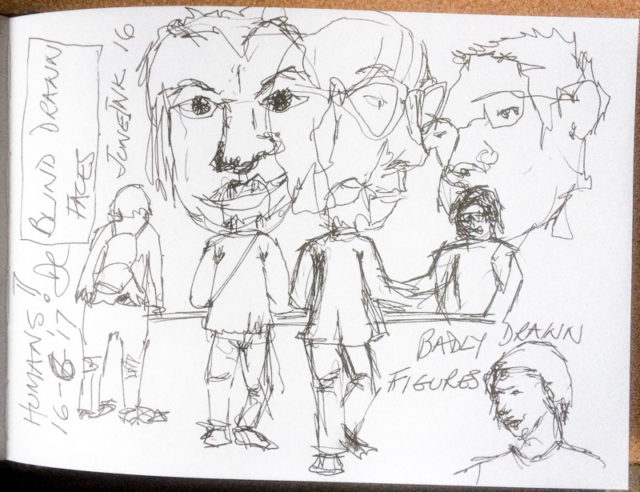 Today's sketch is a hotchpotch of different practise pieces. Some badly drawn figures and some better ones that were drawn blind. Not 'eyes closed' blind, drawn without looking at the paper, just staring really hard at your subject. The faces were from a book. I did try a sketch of Scamp working at the computer, but decided not to post it as it wasn't very complementary. In fact it didn't look like her at all.
Oh yes, almost forgot to mention Hazy.  The boxers had their first outing today and appear to have survived to tell the tale.  Ta!
Glasgow tomorrow.