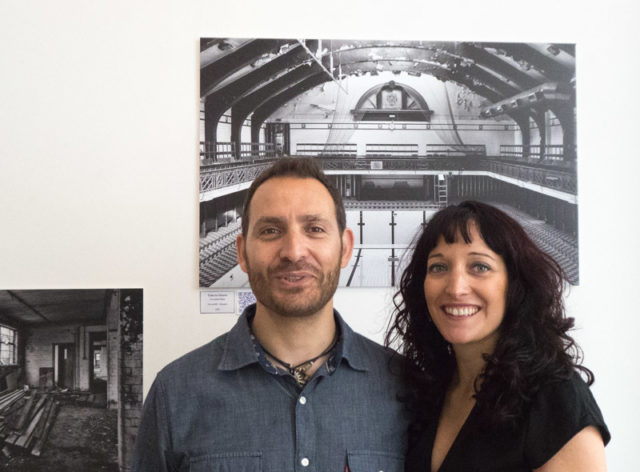 We drove in to Glasgow today. Me to see a photographic exhibition and Scamp to see a quilting exhibition. Both were interesting as it turned out, but mainly to the parties who attended.  The photo exhibition was by Alfonso Ramundo seen above with his partner.  The photographs were all monochrome and of dilapidated buildings, mainly in and around Glasgow, but also some from Czech Republic.  I spent a good half hour talking to the two artists and felt that they were both genuinely interested in their photography.  Very good show.  If you get a chance to see it anywhere, go.
Afterwards we went for lunch to Usha the tapas style Indian restaurant at the bottom of Byres road. Lunch was just as good as usual Patia Gosht an Achari Chicken for me and simply Saag Paneer for Scamp. Nan bread was cool but not cold as usual too. Still, the main food was good and hot so we shouldn't and didn't complain.
On the way back Scamp needed a single ticket on the underground as she'd used up her return and we waited a full five minutes behind a girl who seemed to be buying weekly tickets INDIVIDUALLY for her entire university class. Why she couldn't just have bought them all with the one card swipe I'll never know. She was english, so she probably didn't know any better.
Came home and came over all exhausted. Must be the heat today, so went for a snooze.
Scamp is out at a concert which Nancy told her was in the Concert Hall, but turned out to be in the City Halls. Nowhere near each other. Must stop now because I need to get the train into Glasgow.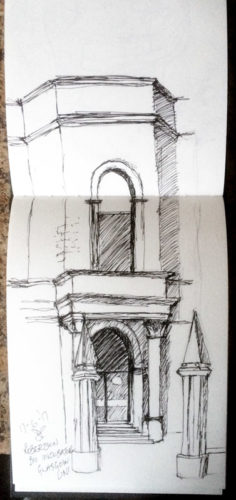 Didn't have time to finish off the blog last night.  Didn't get in until after midnight because of a 15 minute wait in Glasgow while they found a conductor for the train.  Delays like this give more weight to the company's plans to have driver-only trains.
While I was walking back from the photograph exhibition to meet Scamp, I stopped to sketch this building.  Here's what I wrote about it on Flickr:
Entrance to the Robertson Bio Incubator building (Glasgow Uni). Come on people, there must be a better name for this architectural masterpiece.
Today – because it is now Sunday morning – is warm and overcast.  It's going to be a hot one I think, but not as hot as Hazy is predicting down England way!