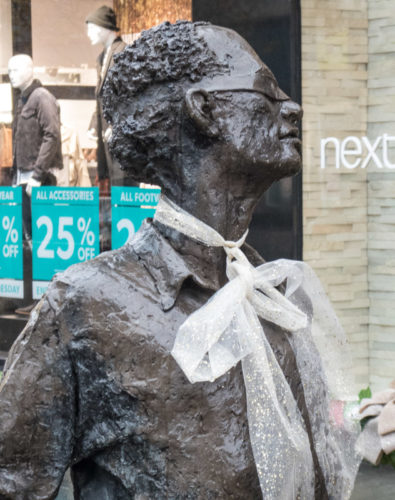 Today we thought we'd go to Perf or to give it its proper name Perth.
Now we had to decide whether to:
Train (costs £20 have to chance getting a space in Croy station carpark and have to change trains at a cold platform in Stirling, going and coming.)

Bus (Free, but then we've got to wait in the cold at Castle Greyskull AKA Cumbersheugh town centre and there's only one bus an hour back from Perf, except when you actually want to come home and then there's none that hour. How do they know when I want to come home?)

Drive (Petrol costs, not very relaxing and the weather is going to be tricky, but we can come home when we want and it's comfortable – no hanging about waiting for public transport.)
No contest, we're driving.
We were just getting ready to go when the big yellow cooncil lorry arrived and two blokes carted the three seater settee away in it. Good, one down, one to go. The weather was just miserable leaving Cumbersheugh, but it gradually got worse as we climbed up the A9 towards Perth. On the high level parts of the road we were essentially in the clouds and it felt like it with poor visibility, although a few drivers of small builders' lorries apparently had radar fitted which allowed them to see further ahead than most of us. The benefit of this is that they didn't have to use lights at all. Brilliant. I must look into this innovation in driving safety.
Arrived in Perth and it was simply dreich and dismal. Coffee first, then a wander round the shops. For me that meant the Waterstones and Oxfam bookshops. Got a couple of books in the Oxfam shop, but everything in Waterstones was at Christmas prices, so no good deals there. Next we went to get coffee and tea, the main reason for going to Perth in the first place. Couldn't decide where to go for lunch and finally settled on The George for Fish & Chips with breaded haddock instead of battered. That done we walked back to the car which was at the other end of the town and got a pleasant surprise. The ticket machine was out of order at the booth, so the bloke told us we would only be charged a quid instead of the four quid we expected. Result!
Drove back down the road in worsening conditions after a quick fruitless visit to Morrisons to see if they had any St Peter's Plum Porter – they didn't. It wasn't really fruitless, we did get some Russet apples, so we got some fruit!
Managed a few photos with the Teazer. PoD was the statue in the main street in Perth with his trendy Christmas scarf.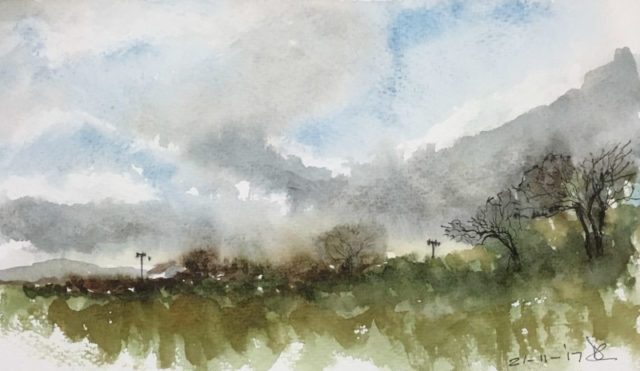 Also managed a watercolour painting from a photo taken at The Smiddy on Saturday
Tomorrow we've got nothing planned. May or may not go to Salsa as it's only one beginners class, but the likelihood is that we'll go.